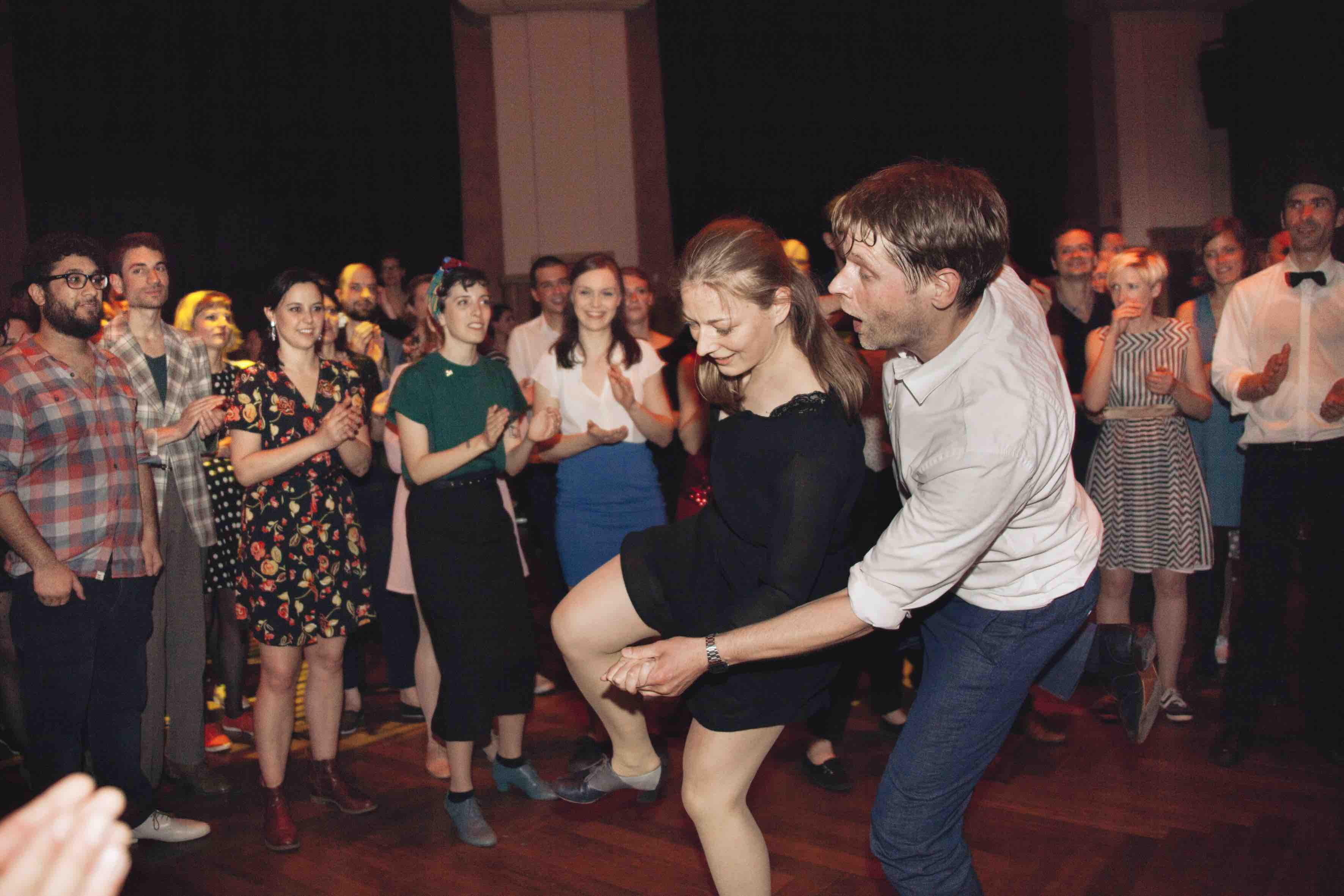 Lindy Hop Energizes Berlin
Recharge your energy in a thriving and lively dance and music culture with new friends!
Berlin is a great place for Lindy Hop. We have a multi-faceted culture where anyone can find a home. At SwingStep we've created a friendly and mindful atmosphere where you can have fun and focus on learning the dance.

We are full-time dedicated to the dance, its culture and community to make sure you have the best experience possible. Which even earned us the reputation of being the "fleissige Bienen" which translates to hardworking bees.
New to swing? Take your first beginner Lindy Hop lesson with SwingStep!
It's easy to join because:
No experience needed! – Every journey starts with the first steps.
No special clothing or shoes required! – Come as you want or get inspired here.
No-one is left behind! – If you miss a class for any reason, you will always have a video summary.
No risk, lots of fun! – Thanks to our 100% money-back guarantee.
Interim Location
Wiclefstraße 16-17, 10551 Berlin
The entrance is in the backyard
Public Transportation: Close to U9 Birkenstraße / S Beusselstraße
What people say about SwingStep in Berlin
SwingStep is a very friendly school, here you can gradually reduce your fear and become more open-minded.

Olga
Lindy Hop is superfun, and quite easy with a bit of practice. Even I can do it (more or less :D)

Leo
I'm quite new to the whole Lindy Hop community and SwingStep made me feel at home and being part of it already! I love it and I'm looking forward to much more of the dance, the music, the people in my life!

Jay
A dance that is great fun and in a good mood brought me through the cold winter well

Tatiana
Impressions of what to expect from a Lindy Hop class