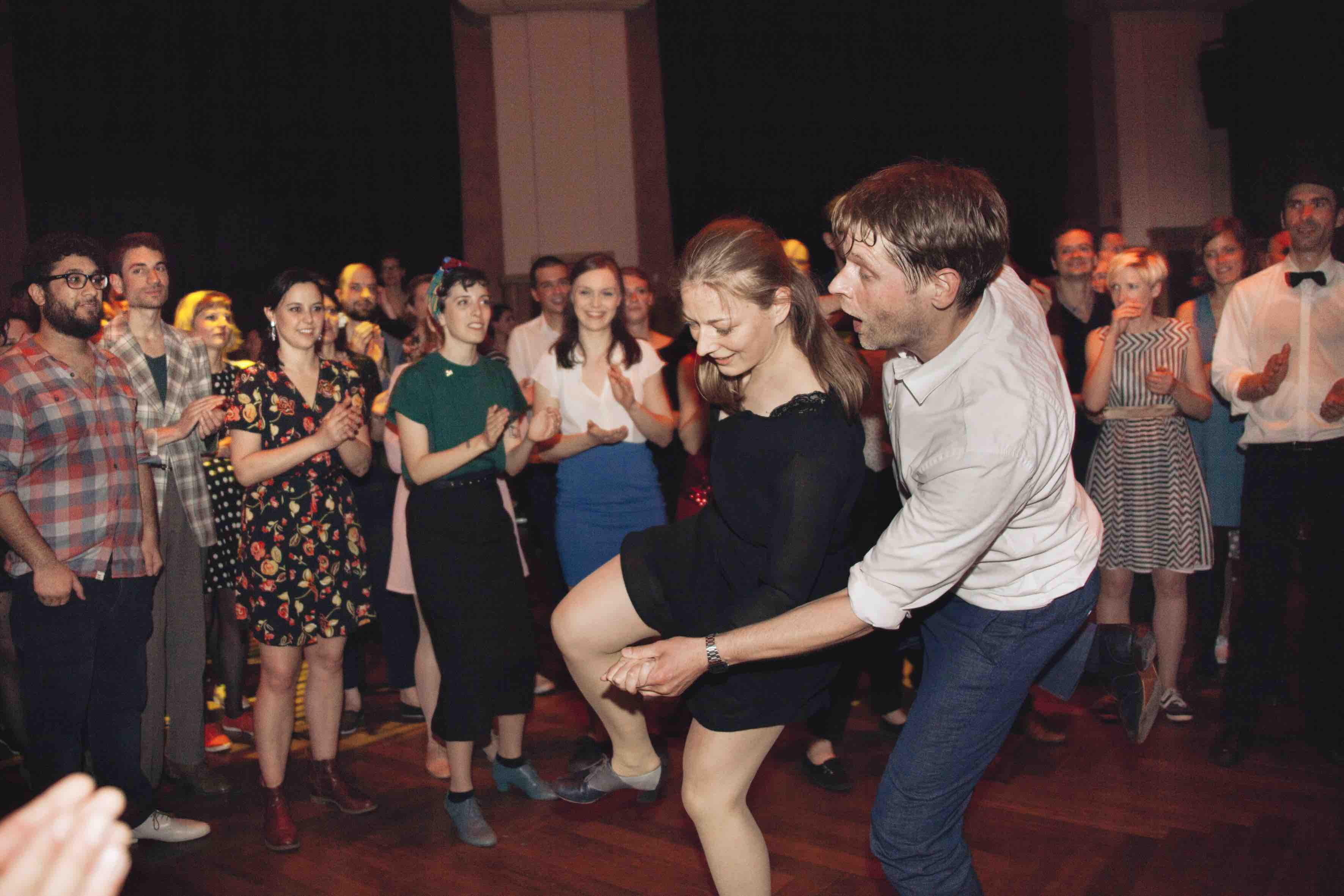 Lindy Hop Energizes Berlin
Recharge your energy in a thriving and lively dance and music culture with new friends!
Berlin is a great place for Lindy Hop. We have a multi-faceted culture where anyone can find a home. At SwingStep we've created a friendly and mindful atmosphere where you can have fun and focus on learning the dance.

We are full-time dedicated to the dance, its culture and community to make sure you have the best experience possible. Which even earned us the reputation of being the "fleissige Bienen" which translates to hardworking bees.
Learn Lindy Hop from beginner to advanced with us using our:
Our Prices:
Trial Class
Free
You want to check and see if Lindy Hop is for you? Just pick one of the drop-in classes here, put on some comfy clothes and show up.

Your first class is free, you don't even have to sign up. We're looking forward to meeting you.

If you want to see what classes with us are like, and maybe get a little head start, click on read more.
Single Class
15€ / Class
If you are interested in occasional drop-in lessons this is a great option for you.
After that, select the drop-in lesson you want – you need to register in advance to ensure your spot and to get a confirmation email with time and location details.
What you get:
Join anytime!
Join one class
Access to lots of free online videos
Class video summary
City Pass
59€ per 30 days
If you dance more than 3 times per 30-days, this is the best option for you.
With a City Pass you can join as many drop-ins and courses as you like (as long as there are spaces available).
What you get:
Start anytime!
Join many classes
The first 7 days for free
Access to all online videos
Class video summaries
You can:
Pause or cancel anytime without any fees.
Need a discount? See our Pay-it-Forward fund.
Our Swing Dance Classes in Berlin:
You can also check our calendar page for an overview and our FAQ page for more information.
Location
Ballhaus Prinzenallee, Prinzenallee 33, 13359 Berlin
Enter through the big gate, the entrance is in the backyard

Public Transport:
U-Pankstraße (U8)
Osloer Str./Prinzenallee (M13)
Prinzenallee/Soldiner Straße (Bus M27)
SwingStep is a very friendly school, here you can gradually reduce your fear and become more open-minded.

Olga
Lindy Hop is superfun, and quite easy with a bit of practice. Even I can do it (more or less :D)

Leo
I'm quite new to the whole Lindy Hop community and SwingStep made me feel at home and being part of it already! I love it and I'm looking forward to much more of the dance, the music, the people in my life!

Jay
A dance that is great fun and in a good mood brought me through the cold winter well

Tatiana
Impressions of what to expect from a Lindy Hop class
New to swing? Take your first beginner Lindy Hop lesson with SwingStep!
It's easy to join because:
No experience needed! – Every journey starts with the first steps.
No special clothing or shoes required! – Come as you want or get inspired here.
No-one gets left behind! If you miss a class, you can use the video summary to catch up, or keep up your training using our online program or in-studio practice times.
No waiting! Start any time.
No risk, lots of fun! The first 7 days of your subscription are free.