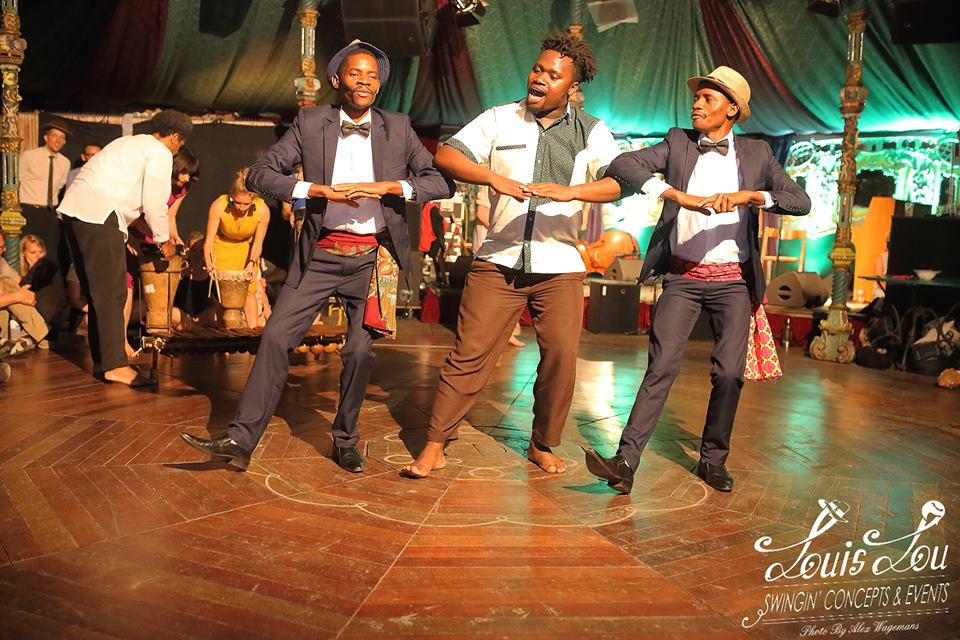 Hodi Maputo Afro Swing Workshop
Mozambican dance and swing dances from an African perspective
We're very happy to welcome the Smile Trio to Heidelberg! Join us for a day of traditional Mozambican dance and Afro Swing.
No prior experience needed, more info below.
Saturday, 29.10. 11:00–12:30
Solo-Dance NGALANGA
This is a dance from the south of Mozambique, from the province of Inhambane. Ngalanga is a way of celebrating and reflects the life of the Chopi people. Love is a very important topic in African dance; in Ngalanga we learn to understand how love can find its expression in dance.

Saturday, 29.10. 14:00–15:30
AFRO SWING Partnered Dance-Workshop
In this workshop we'll explore the connection between different swing dances and traditional Mozambique dance steps. The theme of Afro Swing is "life is rhythm and rhythm is life". The jam circle – dancing in a circle – is of central importance in traditional African dance.

Saturday, 29.10. 16:00–17:30
Solo-Dance WALABA
Walaba is a traditional dance from Mozambique, from the northern province of Cabo Delgado. It is a dance form that revolves around initiation rites and is danced solo. Walaba shows young people how to behave in society, how to live in community with others, how to share ideas, thoughts and love.
This dance is accompanied by drums and lots of singing.
Mozambican Traditional Dances and Rhythms
There are over 1000 traditional dances in Mozambique – each region, each village has their own traditions and variations of different rhythms and dances. Dances symbolize and accompany celebration, war, love or harvesting, however, today variations of the dances are mainly used as an individual expression or to represent the rich Mozambican culture at events. Many of these dances are traditionally only danced by women and other only by men even though today many dances are danced by all. Mozambican dances also show that what is seen as typically masculine or feminine can differ depending on the region and tradition. What all dances have in common is that rhythm comes first, movements comes second. In the Bantu languages such as Ronga and Changana, spoken in Southern Mozambique, the word "ngoma" could mean music, dance, drum or song – which in the end is all expressions of the same thing.
Afro Swing
Afro Swing is the research of the African roots of swing dances and the honoring of this connection. Since the concept of Afro Swing was initiated by Hodi Maputo Afro Swing in 2012, the research and development of what it is has been ongoing. We believe that is what research is about; to not accept something as true but always be open to new ideas and insight. For us Afro Swing is the beginning of a movement connecting Swing and Lindy Hop with its African roots and this is how far we have come in our research.
About the Dancers
The Smile Trio: Eugênio, Elias, and Augusto

Eugênio Macuvel
Eugênio has been a choreographer since the age of 14 and the Artistic Director of Hodi Maputo Afro Swing since the start of the company in 2014. Dancing and singing was a natural part of Eugenio's childhood and he was fast to develop. He started "Crianças da Paz" (Children of Peace) together with the Manhiça twins at the age of 12 and became the young choreographer of Wuchene at the age of 14. During his time as choreographer he has trained many of the members of Hodi Maputo Afro Swing when they were part of "Wuchene Junior" that he initiated to create future dancers. He has through the years put together choreographies with up to 50 dancers on stage, been part of producing many artistic pieces on major stages and has performed and choreographed in different parts of the world such as South Africa, Sweden, China, Belgium, Denmark, Ivory Coast, France, Germany, The Netherlands and Brazil.
As a dancer and dance teacher, Eugenio had the honor of participating in major dance festivals around the world and collaborated with great dance figures such as: Fredrik Dalberg, Chester A.Whitmore, Remi Kouakou Kouame, Marie N'diaye, Valerie Salstrom, Angela Andrew, Lisa Josefsson, Mickey Davidson, Felix Berghall and many others.
Elias Manhiça and Augusto Manhiça
Elias and Augusto are also known as "Gêmeos Manhiça" (the Manhiça Twins). They were born in a culturally rich family and started their first cultural group already in 2003 called "Crianças da Paz" (Children of Peace) where music, song and dance were inseparable. They soon joined the dance company Wuchene and later created Hodi Maputo Afro Swing where Elias now is a musician and general coordinator of Mozambique Afro Swing Exchange and Augusto the musical director. They are also the band leaders of Banda Hodi which is known growing in its popularity in Mozambique. During their career they have performed in Sweden, China, South Africa, Belgium, Denmark, Ivory Coast, France, Germany, The Netherlands, and Brazil at Festival Folclórico de Passo Fundo and New York at the Frankie 100 celebrations.
Manhica Twins Augusto and Elias have attended biggest dance and music festivals such as Herrang Dance Camp, Burning Swing, GentseFesten, Life Ful Festival Stockholm Kultur Festival, Macau International Parede, Lusofony Macau Festival, Mother City Hop, Shangay World Expo and many others.
Let's dance and smile!
Hier findet die Veranstaltung statt:
SwingStation, Kurfürsten-Anlage 58
69115 Heidelberg