Prepare with curated online videos and live zoom train-togethers, then join us for an in-person weekend workshop!
Get the foundations online and use the in-person workshop for what comes next
Imagine coming to a workshop where everybody is on the same page and already has the basics of the content down. How great would it be to build on that together?
Here's how it works
There are two programs for you to choose from.
For each program, we have curated a selection of material from our online training videos at swingstep.tv.
Note: You will need a "Full Pass" with swingstep.tv to access the videos for this program. You can purchase the pass separately here (or, if you are enrolled in one of our local courses, you already have full access).
In the weeks leading up to the event, you will use these videos and join us for live online zoom train togethers to prepare for the in person workshop.
At the in-person workshop we will go deeper into the topics as a group and build on top of them together.
Recap Videos
Here are some short videos to give you an idea of what you'll be working on:
Working on our online material is fun and you can do it when you want, where you want, and with whom you want. Joining our live online train-together sessions can make it even more fun, because that gives you:
A schedule to help you make time for your training
A group of people to train with instead of feeling alone with your "homework"
The chance to get help and support from the teachers
An opportunity to meet some of the other participants in the online sessions, and arrive at the workshop as friends.
Most importantly, there is a clear path and you have a clear goal that you are working towards: the in-person weekend Next.
How about getting together with some people to form a training team? This way, you can already work on the content together and have some buddies at the in-person workshop. If you time your training sessions so that they happen at the same time as the zoom sessions, the teachers can help your team with any questions and give you extra tips.
Live zoom train-together schedule: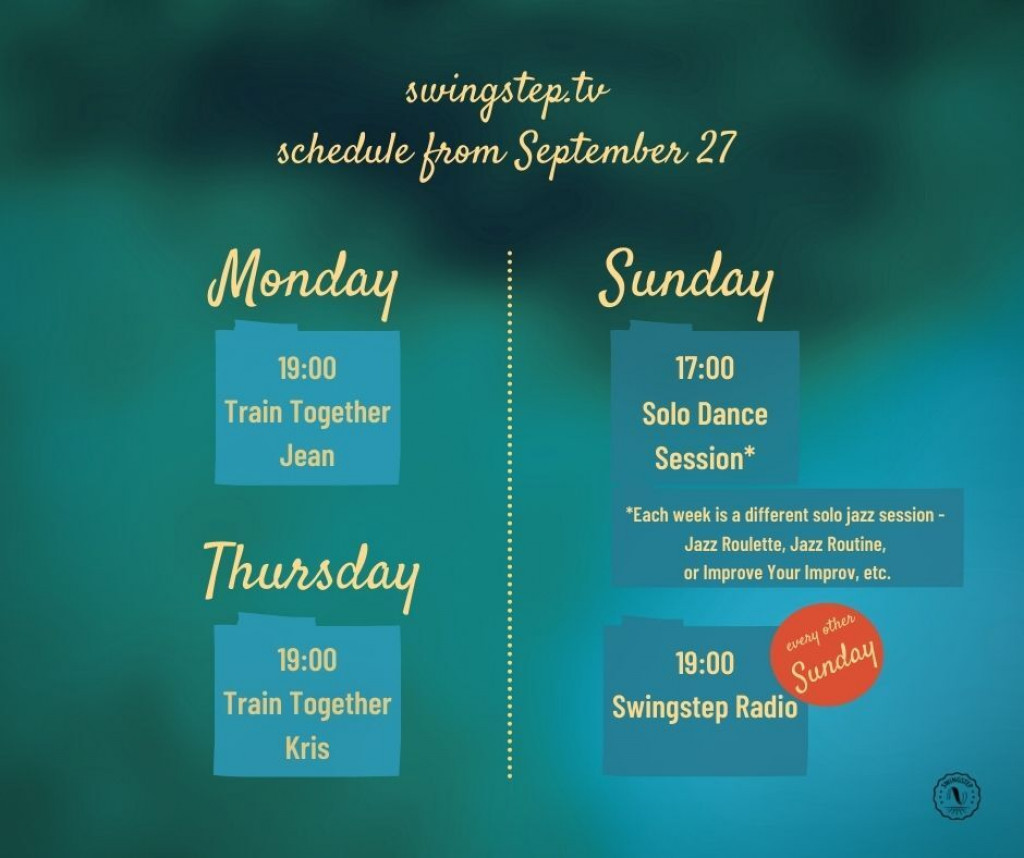 Autumn Zoom Schedule:
Mondays 19:00 = Train Together
Thursdays 19:00 = Train Together
Sundays 17:00 = Solo Dance Session (Jazz Roulette, or Routine, or Improv)
every other Sunday 19:00 = SwingStep Radio
If you already know the content, that's great! Our recommendation is that you go through it quickly as a refresher shortly before the in-person workshop. The point of this event is to progress beyond the videos.
Pricing
The online component of this program relies on you having a "Full Pass" on swingstep.tv. You can book this right now (it's only 29€/month and you can cancel any time).
Join one program (A or B) with 6 hours of in-person workshop for 79€.
Join both programs (A and B) with a total of 12 hours of in-person workshop for only 138€.
We'll donate 5% of the event payments to Click A Tree, our little contribution to sustainability.
How do the "levels" work?
We believe that it will be better for our culture and community if we start finding other ways of creating good learning experiences rather than assigning people to levels. So, instead of separating the event based on overall dance levels, we've chosen to create programs of particular content, with different degrees of challenge, for you to choose what content suits you. We think this will give all of us a great experience – especially since you can prepare for the weekend and get ready for what's coming.
We have two programs prepared for you. You can choose the one that suits you best, or you can even do both. You can think of these as separated by both content and degree of difficulty. If you go over the recap videos above, you'll get a good feel for which programs are right for you – and of course feel free to contact us if you have any questions (send us an email, or hop on a train-together session to ask a teacher).
Here's a guideline to help you decide on the right program for you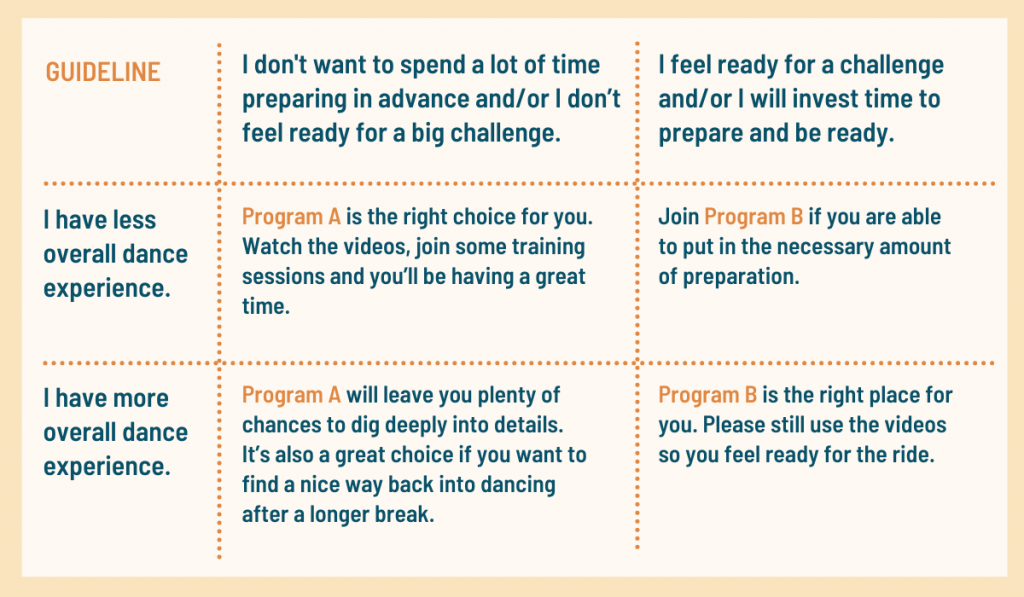 Homework for Program A
Please use these videos to train and prepare for program A of the in-person weekend:
1. Proprioceptive training and movement from the hips

This entire video will serve you very well for the workshop. Practice everything up to the routine (the solo routine at the end is not necessary for the workshop; consider it a bonus that you can work on if you like).
2a. For followers: training tuck turn spins

please begin with the short training session in this video; start at time stamp 1:15:10 – use the chapter headings (three lines at the bottom right of the video player) and look for "Topic: Training Turns".
in the next video please also do the longer training session on the same topic; start just after the warmup and go until 26:20.
2b. For leaders: positioning training

Please work on the concepts in this video in order to be comfortable with different kinds of positioning towards your follower. If you want to, you can do the entire class, but chapter 12 is the most important part for our workshop – go to time stamp 51:11, or use the chapter headings (three lines at the bottom right of the video player) and look for "Level 3 Movements".
3. Elements of the Al & Leon Shim Sham and other Solo Jazz
4. Charleston swing out and beyond

We think the entire video of Swing6 Class6 will be valuable to you, but if you are short on time and you already know the Charleston swing out itself (chapter 6), then you could skip ahead to the variations beginning at timestamp 32:04 (chapter 10, "Follower's Kick-away").
Homework for Program B
Please use these videos to train and prepare for program B of the in-person weekend:
1. Switches Training

We delve into switches in our Swing4 course.
Switches are introduced in this video starting at timestamp 35:37 (chapter 9) and continue until the end of the class; if you already know switches, this video is optional for you.
We want you to use this entire video for your switches, in order to do some detailed switches training and learn a few variations on how to exit the move.
2. Airplane Charleston and more

Please work on the moves and concepts in this video all about "opposite" airplane Charleston.
If you are new to airplane Charleston, you might also want to use this video (start at time stamp 20:40, chapter 8).
If you need a reminder of hand-to-hand Charleston, then use this video (start at time stamp 14:42, chapter 4).
3. TOBA break

We want you to become very comfortable with dancing the TOBA break. You can find it in this video from our Al & Leon Shim Sham course (timestamp 25:46, chapter 9), or perhaps you might prefer the breakdown in this bonus training video; whatever works best for you to be comfortable with this break.
Bonus: it would be great if you can take a little time to familiarise yourself with two other classic breaks.
Sign Up – Heidelberg
Next Heidelberg – Program A
Next Heidelberg – Program B
Sign Up – Berlin