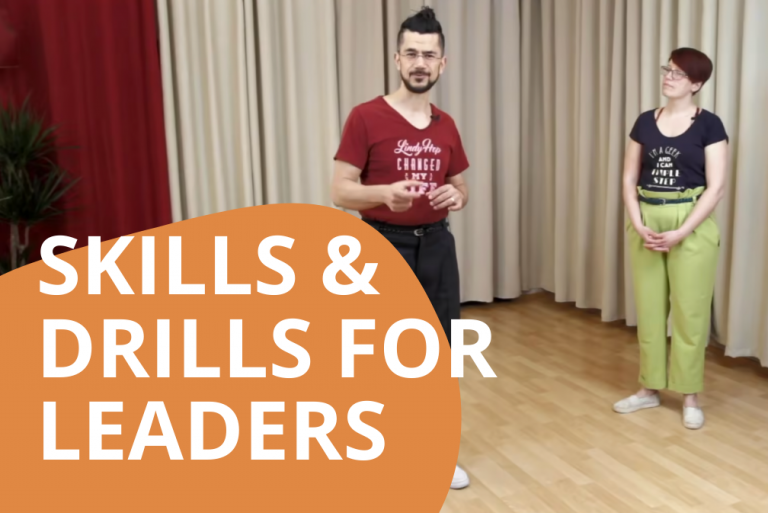 Skills & Drills for Leads
Want to improve your dancing? Wonder how great dancers hold their balance and why their footwork always looks so easy? We have the answer: learn and train solo!Dance your triple steps cleanly, whether fast or slow, traveling or turning; keep your own flow and rhythm reliably no matter which partner you dance with. Join Solo Skills & Drills: put in the solo work you need to make partner dancing easy!
What will I learn in this course?
Example themes include:
body isolations & body awareness/posturespins & turnsquality triple steps & other footwork variations
What should I know before joining?
This course is mixed-level, from intermediate and up. Anyone can benefit from this course, even advanced dancers. In order to progress well we expect you to have at least 6 months experience in Lindy Hop and Charleston and to know the Swing Out (for example you have taken our Swing 4 course). To have solo dance experience might be useful but is not needed.
If you are not sure whether the course is right for you, don't hesitate to ask us 🙂
...
Hi ,
If you want to take this and our other courses, please book an Online Pass here , Or a Teacher Training Program Pass here.
If you already have a pass and can't access it, there could be two possible reasons for this:
You're no longer logged in and just need to log back in to view the content.
The content you tried to access isn't available for the pass you subscribed with, and you need to get a different pass to gain access.
If you believe you should have access and something went wrong, please contact us so that we can take care of it asap.