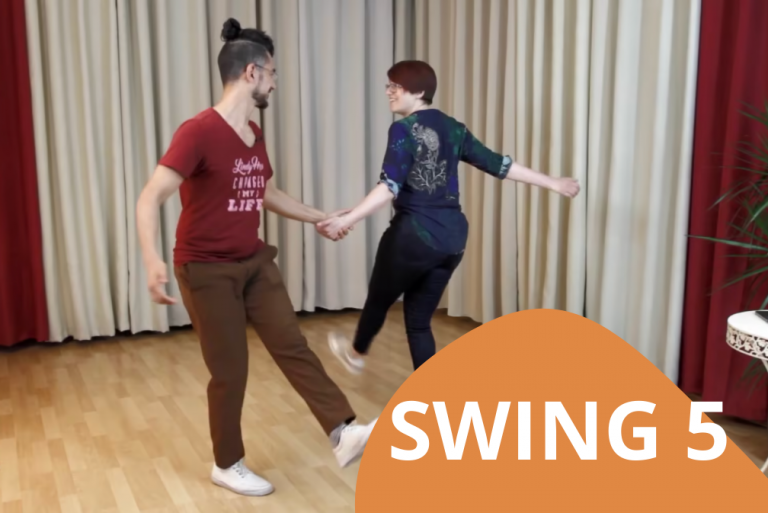 Swing 5
If you've ever seen anybody dance partnered Charleston, these are the moves that stand out: Tandem, Airplane & Hand-to-Hand Charleston. It's fast, it's energetic, and gives you exciting new ways of connecting with your partner.
What will I learn in this course?
Each of these moves will come with its own fun variations, but this checklist shows the fundamental moves you'll learn in the class. Once you know these, you're ready to move on to the next level.
hand-to-hand charleston: basic, turn, transitionstandem charleston: basic, pushouts, chase into tandemairplane charleston: basic, turns
We highly recommend people to take Swing 5 multiple times.
What should I know before I join this course?
Swing 5 takes you deeper into Charleston moves and rhythms, and will use the foundation and practice you gained in Swing 3. It is helpful to have the added experience and control you gained in Swing 4, but it's possible to take Swing 4 and Swing 5 in parallel if you like.
Whether you'll take this course alone or with a partner, we created a video to explain how you can get the best out of your online learning experience with us. You'll find it in the Lesson Content section, under the main video of the first class.
...
Hi ,
If you want to take this and our other courses, please book an Online Pass here , Or a Teacher Training Program Pass here.
If you already have a pass and can't access it, there could be two possible reasons for this:
You're no longer logged in and just need to log back in to view the content.
The content you tried to access isn't available for the pass you subscribed with, and you need to get a different pass to gain access.
If you believe you should have access and something went wrong, please contact us so that we can take care of it asap.