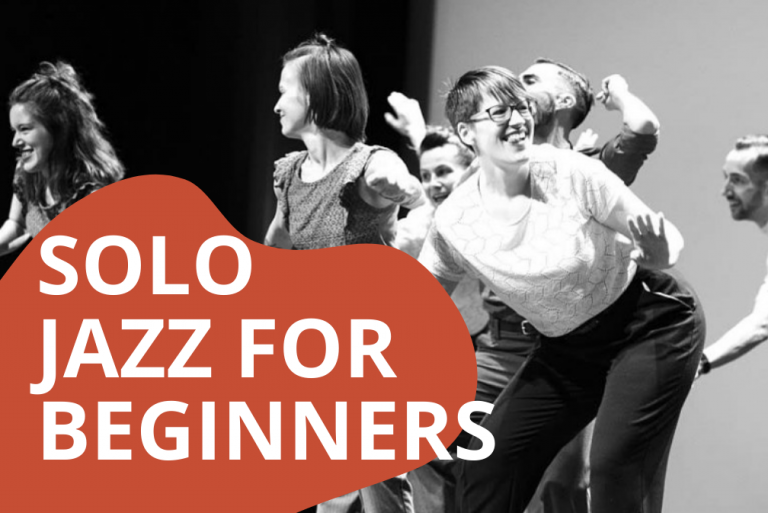 Solo Jazz for Beginners
Jazz music has an incredible ability to make us want to move. Even after learning only a few simple jazz steps, you can tap into that feeling and flow with the music like a surfer catching a wave. This course is designed to do just that!
You don't need any prior knowledge about jazz music, or any prior dance experience whatsoever; we'll start from scratch and build up layers from there. In each class you'll have a great balance of easy step-by-step instructions and practice time, plus some cool challenges thrown in. In only three sessions we'll take you into the world of jazz, giving you everything you need to move and groove along to amazing swinging tunes!
What will I learn in this course?
You'll learn some important jazz steps, as well as the fundamental techniques behind them. Vernacular jazz is a Black american art form, which emphasizes improvisation and creativity, and in this course you'll even get a taste of the rich exploration you can do to create your own voice in the dance.
Basic Rhythms: Step-Holds and Hold-Steps, Quicks, TriplesPosture, Groove, BalanceClassic Steps: Tackie Annies, Shish-ka-booms, Low-downs, Camel Walks, and moreSimple tools for improvising and for developing your own style
What should I know before I join this course?
You can take this course without any prior dance experience. If you've taken some swing courses before, you'll have some experience that you can build on and this course will be easier for you, but the prior experience is absolutely not necessary.
If, after this course, you are ready to dig deeper with more material and a more challenging learning pace, then check out our Solo Jazz Basics course.
...
Hi ,
If you want to take this and our other courses, please book an Online Pass here , Or a Teacher Training Program Pass here.
If you already have a pass and can't access it, there could be two possible reasons for this:
You're no longer logged in and just need to log back in to view the content.
The content you tried to access isn't available for the pass you subscribed with, and you need to get a different pass to gain access.
If you believe you should have access and something went wrong, please contact us so that we can take care of it asap.