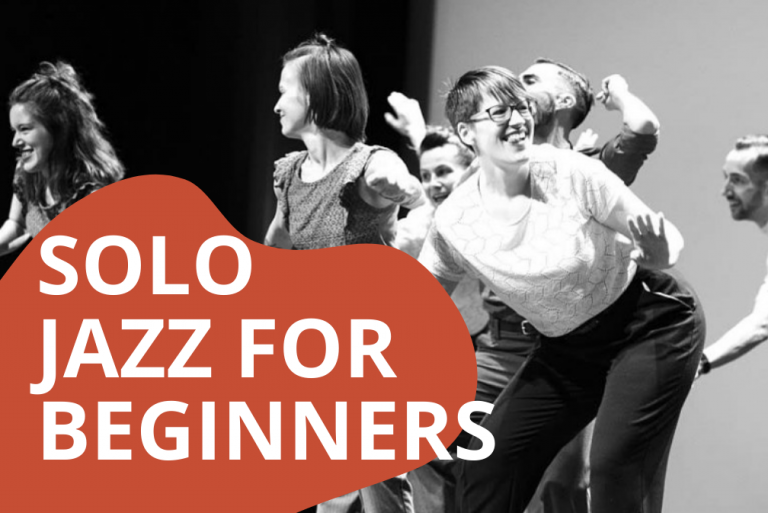 Solo Jazz for Beginners
Solo Jazz ist der einfachste Weg, um unabhängig von einem Partner an deinem Tanzen zu arbeiten. Du bekommst ein besseres Verständnis für die Grundrhythmen des Swing, verbesserst deine Balance und erhältst mehr Kontrolle in deinen Gewichtswechseln. Und nebenbei lernst du beliebte Authentic Jazz Schritte, die nicht nur super sind um alleine zu Tanzen, sondern auch als Variationen im Lindy Hop eingebaut werden können. Wir finden, dass jeder Lindy Hopper Grundkenntnisse im Solo Jazz haben sollte – also warum nicht auch du?
Was lerne ich in diesem Kurs?
In diesem Kurs lernst du einige der beliebtesten Solo Jazz Schritte und vertiefst dein Verständnis für die Grundrhythmen des Swing:
Grundrhythmen: Groove Walk, Jig Walk, Quick Steps, Triple StepsBeliebte Jazz Schritte: Tackie Annie, Fall off the Log, Apple Jacks und viele mehr…Kreativität & Improvisation: Einfache Wege, Schritte zu kombinieren und neu zu kreieren
Was sollte ich bereits kennen, um teilzunehmen?
Dieser Kurs benötigt nicht viel Tanzerfahrung: Nach Swing 1+2 oder ungefähr 3 Monaten Swing Tanzunterricht solltest du genug Bewegungserfahrung haben, um mit dem Lerntempo des Kurses mithalten zu können.
Falls du sehr motiviert bist hart zu arbeiten oder ein "Schnelllerner" bist, dann kannst du auch ohne Tanzerfahrung einsteigen.
...
Hi ,
it seems like you're currently unable to view the content you just tried to access.
There are three possible reasons for this:
You're no longer logged in and just need to log back in to view the content.
The content you tried to access isn't available for the pass you subscribed with, and you need to get a different pass to gain access.
You tried to access parts of the Teacher Training Program that aren't yet available for you. Lessons 4-5C will be unlocked 30 days after purchase and lessons 6-10 after 60 days.
If you believe you should have access and something went wrong, please contact us so that we can take care of it asap.