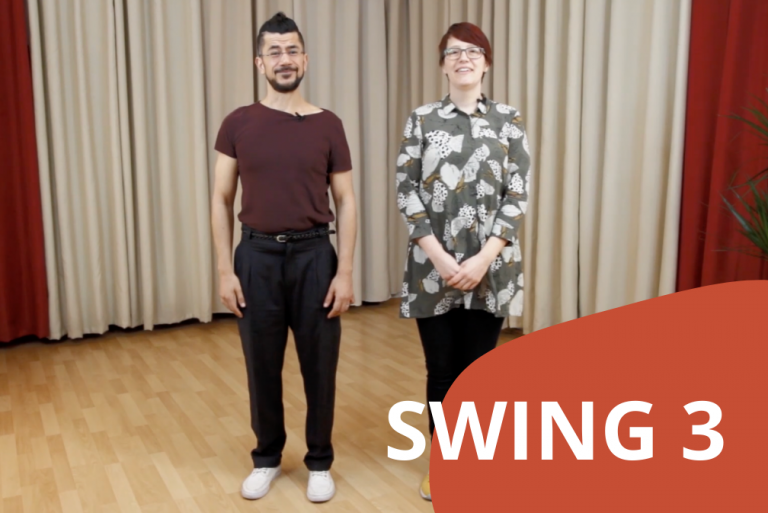 Swing 3
Dieser Kurs macht Drehungen zum Schwerpunkt. Du lernst hier einige der typischen Swing Moves, wie den Tuck Turn und den Sailor Step, sowie die Details zur richtigen Drehtechnik. Außerdem lernst du, wie du das Tempo erhöhen kannst um Charleston und Lindy Hop Variationen innerhalb eines einzigen Tanzes zu verbinden.
Was lerne ich in diesem Kurs?
Jede dieser Figuren bringt ihre eigenen Variationen mit sich, aber diese Liste zeigt die wichtigsten Moves, die du hier lernst. Sobald du sie verstanden hast bist du bereit fürs nächste Level.
– Charleston: Tuck Turn closed-to-open, Tuck Turn open-to-open; Sailor Step– Lindy Hop: Tuck Turn closed-to-open; Richtungswechsel und Variationen– Rhythmus-Kombination: verbinde Lindy Hop und Charleston innerhalb eines Tanzes!
Was sollte ich bereits kennen, um teilzunehmen?
In Swing 3 bauen wir auf die Grundlagen von Swing 1 und Swing 2 auf.Wenn du bereits anderswo einen Einsteigerkurs gemacht hast, dann könnte Swing 3 ein guter Einstiegspunkt für dich sein.
Egal ob Du diesen Kurs allein oder zu zweit angehst; Wir haben ein Video für Dich, dass erklärt, wie Du das Beste aus deinem Online-Lern-Erlebnis mit uns machen kannst. Du fndest dieses Video im "Lektion Content"-Abschnitt unter dem Hauptvideo der ersten Einheit.
...
Hi ,
it seems like you're currently unable to view the content you just tried to access.
There are three possible reasons for this:
You're no longer logged in and just need to log back in to view the content.
The content you tried to access isn't available for the pass you subscribed with, and you need to get a different pass to gain access.
You tried to access parts of the Teacher Training Program that aren't yet available for you. Lessons 4-5C will be unlocked 30 days after purchase and lessons 6-10 after 60 days.
If you believe you should have access and something went wrong, please contact us so that we can take care of it asap.