Lindy Hop auf deine Art!
Lerne wann du willst, wo du willst, wie du willst und was du willst mit unseren Online-Kursen und virtuellen Trainings!
Ist unserer Online-Kursprogramm das richtige für dich?
Du willst deinen Trainingsplan selbst in der Hand haben?

Du schaffst es nicht zu den Kursen vor Ort?
Du willst die Geschwindigkeit deiner Einheiten verändern können?
Du willst ein durchgehendes Konzept von den Grundlagen bis zum Fortgeschrittenen?
Du willst dich vorbereiten um dich im nächsten Kurs sicherer zu fühlen?
Du willst einfach mit deinem Partner oder allein Zeit für dich/euch haben?
Mit unserer Online-Tanzplattform findet das Lindy Hop Tanzen, mit allem was es zu bieten hat, auch in deinem Leben Platz.
Egal wie viel Tanzerfahrung du schon hast – ob du ganz am Anfang deiner Tanzlaufbahn stehst, bereits Expert:in bist oder sogar selbst unterrichtest – mit unserem Online-Pass machst du jeden Tag Fortschritte. Mit uns und mit unserer Community. Wir bieten Video-on-Demand Kurse und regelmäßige Live-Sessions an.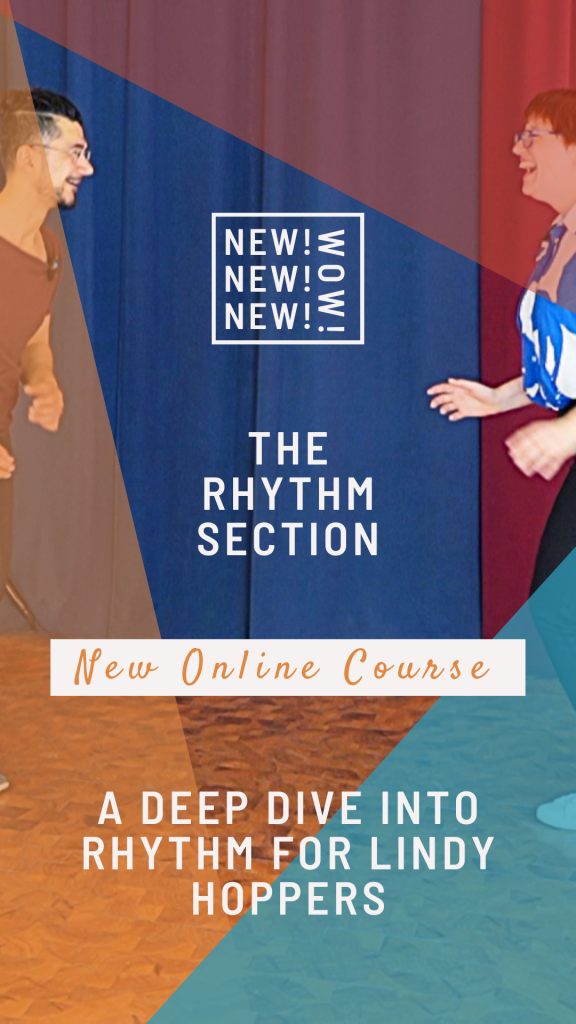 NEU: The Rhythm Section
Der Rhythmus ist für den Lindy Hop so wichtig. Wenn du deinen Rhythmus besser verstehst und ausdrückst, sehen deine Bewegungen besser aus und fühlen sich besser an, und dein Tanz kann das Gefühl und die Werte dieser schwarzamerikanischen Kunstform besser widerspiegeln. In diesem Kurs werden wir Ideen und Übungen teilen, die wir lieben und die schon vielen Schüler:innen geholfen haben, ihren Tanz rhythmischer zu gestalten und mehr "in der Tasche" der Musik zu haben.
Unser Ziel ist es, dir dabei zu helfen, deine Fähigkeit zu entwickeln, in jedem Moment deines Tanzes mehr zu hören und zu reagieren. Wir werden eine Vielzahl von Ansätzen erforschen, um dein Bewusstsein zu verbessern und Bezüge zu deinem eigenen Körper herzustellen, und wir werden dir ein paar Variationen und Dekorationen an die Hand geben, um deinem Training etwas Spaß und Abwechslung zu verleihen – und das alles, damit du dich besser auf eine Weise ausdrücken kannst, die zur Rhythmusgruppe passt.
Ein komplettes Training – vom Einstieg bis zur Expertise
Mit diesem Angebot bekommst du Zugriff auf alle unsere Videos – von den Grundlagen bis zu fortgeschrittenem Lindy Hop und Solo Jazz. Du kannst alleine oder mit Partner:in mitmachen.
Der Online-Pass enthält die vollen 90+ Stunden an Lehrvideos, die verschiedenste Tanzinhalte abdecken.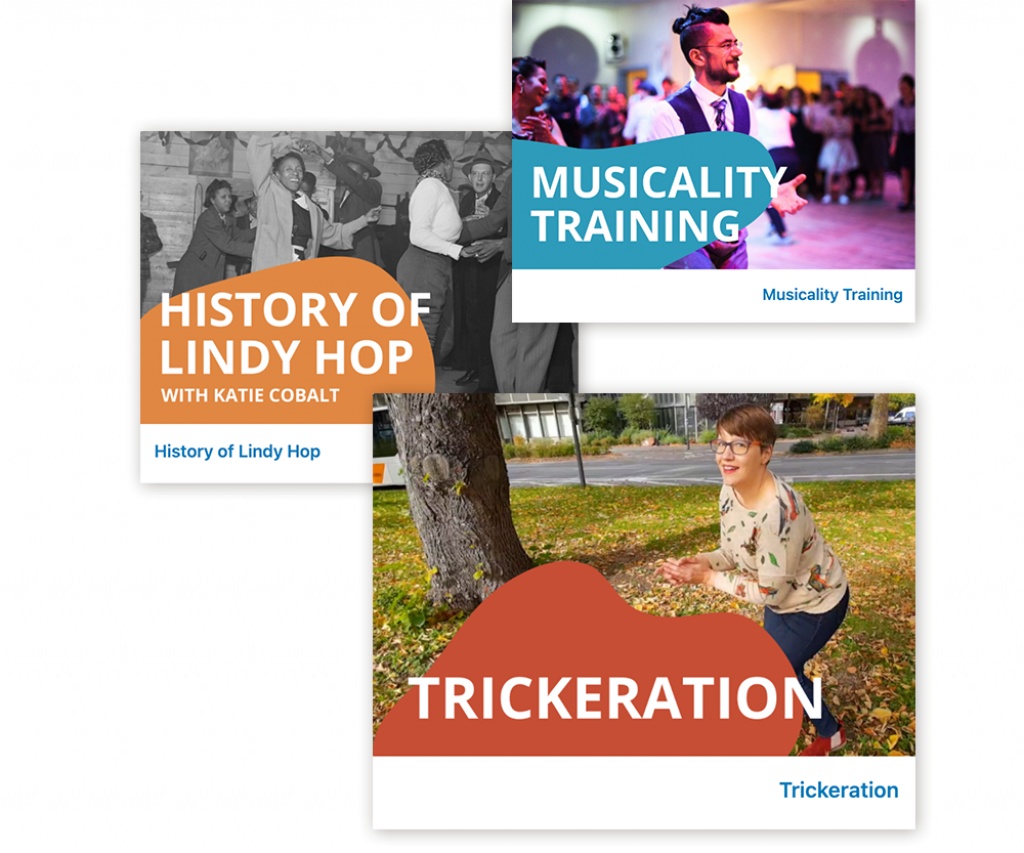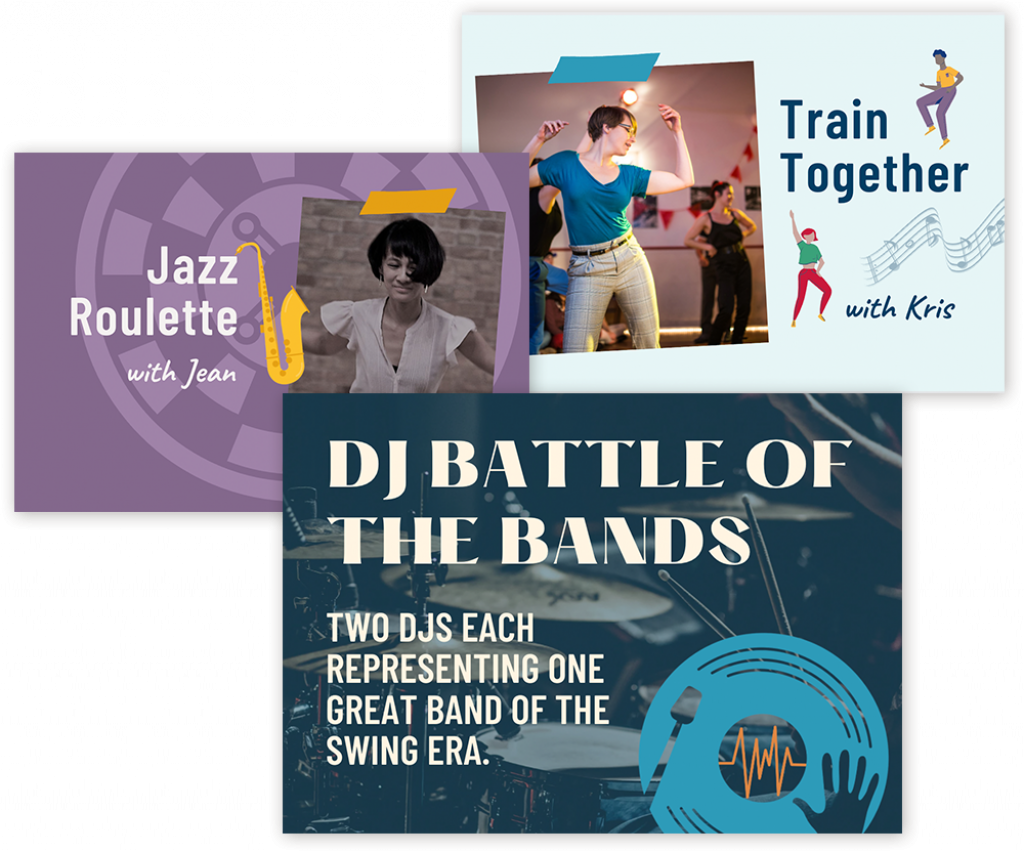 Virtuell Sozial
Erhalte Zugang zu regelmäßigen Live-Aktivitäten auf zoom. Gemeinsam macht das Training mehr Spaß! Wir wärmen uns gemeinsam auf und unterstützen uns gegenseitig. Wir können dir helfen, wenn du Schwierigkeiten hast, und dir zusätzliche Herausforderungen geben, wenn du sie brauchst.
Unsere häufigsten angeleiteten Übungseinheiten sind Jazz-Roulette und Jazz-Routine-Practice. Gelegentlich veranstalten wir auch spezielle Events, wie unsere Sessions mit eingeladenen DJs über Musiker der Jazz-Ära.
Preis
Monatsabo
29 €/Monat
Beinhaltet
Vollen Zugang zu all unseren Online-Kursen! Das sind über 90 Stunden Lernvideos – von den Grundlagen bis zu fortgeschrittenen Techniken.
Zugang zu den regelmäßigen Zoom-Aktivitäten wie Jazz Roulette, Routinen und mehr!
100% Geld-Zurück-Garantie für die ersten 30 Tage.
Du kannst
jederzeit ohne zusätzliche Kosten pausieren oder kündigen.
Unterstützung durch den Pay-it-Forward Fund bekommen oder darin einzahlen, um andere zu unterstützen.
Zeitplan der Online-Aktivitäten
Auf unserer Kalender-Seite bekommst du einen Überblick über all unsere Aktivitäten. Du kannst den Filter nutzen, um nur Online-Events anzuzeigen und deine Zeitzone einstellen.
Oder du fügst die Events mithilfe dieses Google– oder iCal-Links deinem eigenen Kalender hinzu.
Mehr zu den verschiedenen Online-Aktivitäten findest du unten.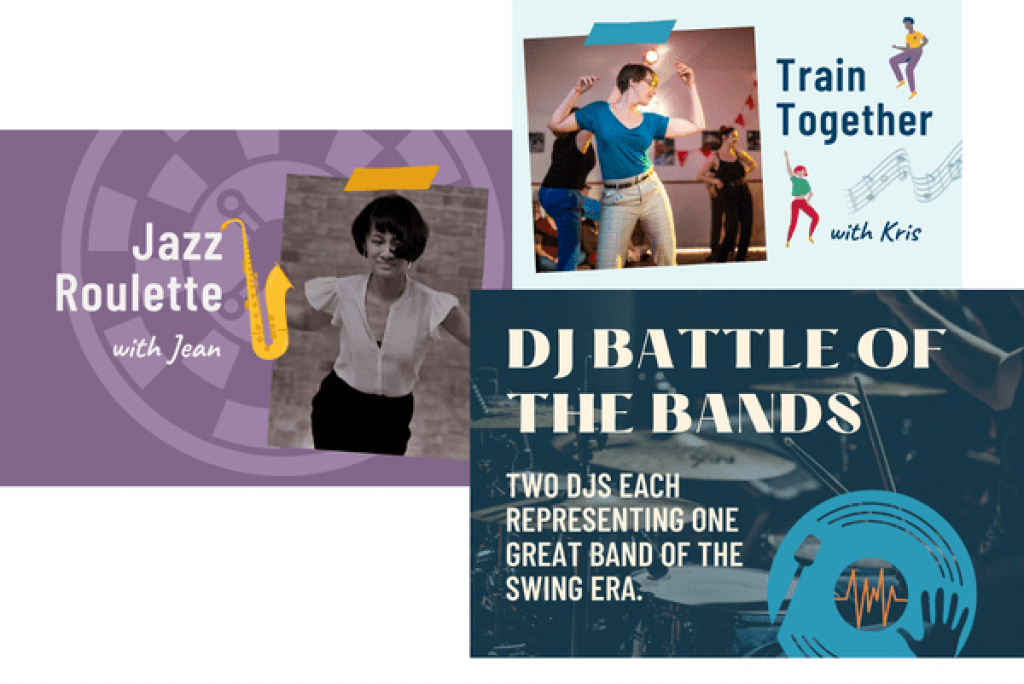 Hast du Fragen?
Schau auf unserer FAQ-Seite nach, um mehr zu erfahren. Wenn du nicht findest, wonach du suchst, sprich uns bitte an! Schicke eine E-Mail an [email protected] und beschreibe dein Problem so genau wie möglich. Wir melden uns dann bei dir.
Die Lehrenden
In den Kursen lernst Du Kris and Ali kennen, zwei exzellente Tänzer:innen und erfahrene Swingtanz-Lehrer:innen aus Heidelberg.
Kris und Ali unterrichten seit vielen Jahren Swingtanz für alle Niveaus: von Anfänger:innen ohne vorherige Tanzerfahrung bis hin zu den erfahrensten Tänzer:innen und Tanzlehrer:innen, die von ihren einzigartigen Methoden profitieren. Das Lehren hat sie um die ganze Welt geführt: von den Städten Europas, nach Israel, Chile, Neuseeland und zurück. Die Online-Kurse enthalten ihre besten Ideen und Material das überall anwendbar ist und für jede:n funktioniert.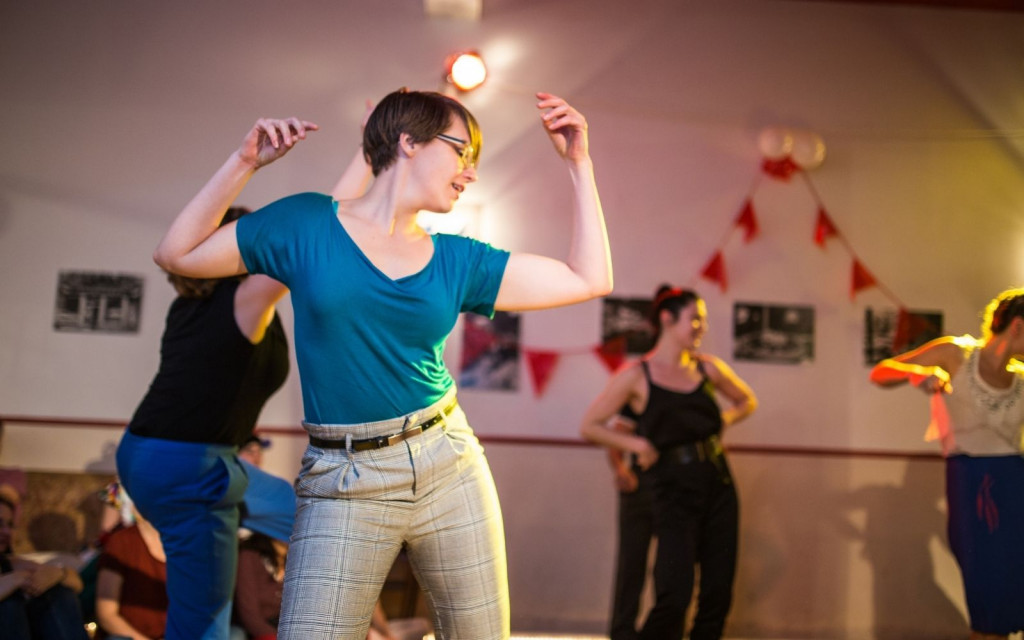 Kris Blindert
Bevor Kris sich ganz dem Swingtanzen verschrieben hat, war sie Astrophysikerin. Sie hat geforscht, unterrichtet und ihr Wissen mit der Öffentlichkeit geteilt. Das Lehren war schon immer ihre Leidenschaft und ihre langjährige Erfahrung in so unterschiedlichen Bereichen haben ihre Fähigkeiten geschult, besonders komplexe Strukturen in leicht verständliche Einzelteile zu zerlegen. Ihr Ziel ist es immer, Dir den leichtesten Lernweg aufzuzeigen, ohne dabei die Essenz des Tanzes zu verwässern.
Ali Taghavi
Ali begann seinen Berufsweg als Chemiker in der Alzheimerforschung. Nachdem er vier Jahre lang in die neusten Entwicklungen in der Alzheimerprävention und Studien zur Behandlung vertieft war, erkannte er, dass Swingtanzen auf ganz praktische Weise alle Vorteile eines gesunden Lebensstils und der Krankheitsvorbeugung in sich vereint. Und in diesem Moment hat er sich entschlossen, sein Leben und Handeln darauf zu fokussieren, den Menschen durch Swingtanzen zu einem stabilen, glücklichen und mit Leidenschaft und Begeisterung erfüllten Leben zu verhelfen.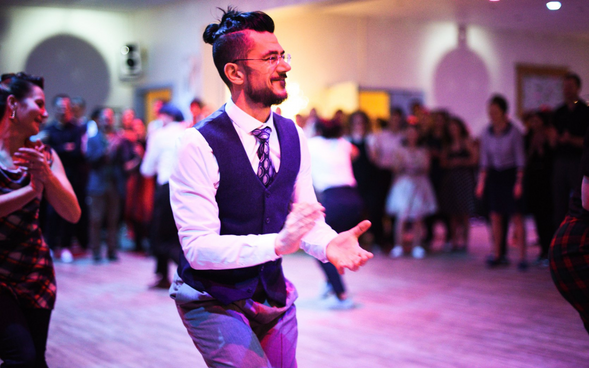 Wie andere Tänzer:innen ihre Erfahrungen mit unserem Online-Programm beschreiben
Lies mehr von unseren Erfahrungsberichten
"Wir haben das erste Swing 6-Video zuhause sehr genossen. Dadurch, dass es ein langes Video für die gesamte Stunde ist, fühlt es sich wie ein normaler Kurs an, mit dem Vorteil, dass man immer die perfekte Perspektive hat. Wir fanden es gut, dass man nicht auf Play und Pause drücken musste, so konnten wir uns ganz auf die Erklärungen und das Tanzen konzentrieren."
Golnoosh and Samuel
"Ich wusste, dass es gut werden würde, aber es war noch besser. Ich habe meine erste Onlinestunde mit euch geliebt und ich freue mich darauf, was in den nächsten Videos kommt. Besonders liebe ich, wie der Unterricht aufgebaut ist und wie er präsentiert wird. Dieses Programm hilft mir auf jeden Fall, an meinen Grundlagen zu arbeiten, damit ich noch mehr Spaß habe, wenn wir wieder tanzen gehen können."
Thomas
"Ich bin sehr beeindruckt von der Qualität des Videos, des Sounds und des Unterrichts! Es hat sich fast so angefühlt als wär ich in einem Kurs vor Ort und ihr könnt mich sehen, während wir alle intensiv trainieren, lachen und gute Musik hören. Ich hätte nicht gedacht, dass Online-Swingtanzkurse so gut funktionieren, vielen Dank!"
Esther