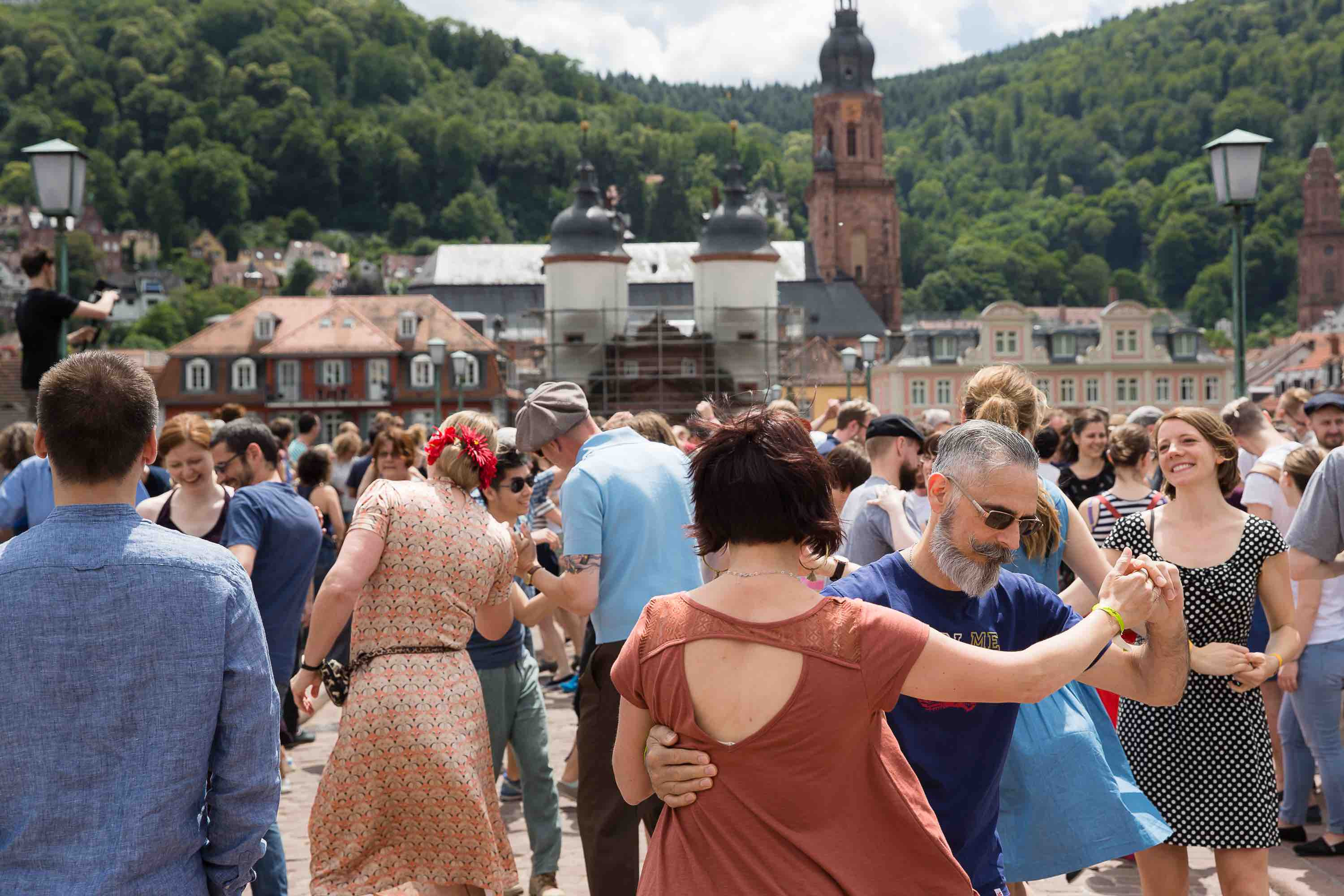 Lindy Hop Rocks Heidelberg
Have fun with new friends and recharge your energy with dancing and music!
In Heidelberg, as a community we don't take ourselves too seriously. Whether casual dancers or professionals like some of our teachers, we all meet to be social and enjoy an evening of dancing.

We have the same mix of people that you find in Heidelberg itself: students, academics, working people with families, people from Germany and also from everywhere in the world. What brings us together is the energy we get from cultural enrichment, laughter and the joy of movement and music.
New to swing? Take your first beginner Lindy Hop lesson with SwingStep!
It's easy to join because:
No experience needed! – Every journey starts with the first steps.
No special clothing or shoes required! – Come as you want or get inspired here.
No-one is left behind! – If you miss a class for any reason, you will always have a video summary.
No risk, lots of fun! – Thanks to our 100% money-back guarantee.
Location
SwingStation Kurfürsten-Anlage 58
69115 Heidelberg
The entrance is on the eastern side of the building (toward Stadtwerke), nicely reachable from the Kurfürsten-Anlage itself or from the Kirchstraße.
Public Transportation: many busses, streetcars, trains; stops "Hauptbahnhof" or "Stadtwerke".
Parking: street parking, best-found in the Kirchstraße. (Please do not park in the yard.)
For more information visit our Class FAQ page
Dancing in Corona-times
Partner Change is Back!
We are so pleased to announce to you that, since the situation in Ba-Wü is quite stable, the rules have changed and become much more relaxed for our classes. The main point of excitement is: partner change is back!! We even spoke with the Ordnungsamt and Gesundheitsamt directly because we wanted to make sure, and indeed it's no problem. We have decided, even though it's not legally required, to require GGG (Geimpft/Genesen/Getestet – proof of vaccination / recovered status / test) for everyone, so that we can all feel comfortable.
Course Size and Distance
With the new looser regulations we can allow more people into classes again. Having said that, even though the rules are much more relaxed now, we still want to offer you a learning environment that feels safe for us and for you. For that reason we'll still limit the number of dancers we accept for our classes.
Access Requirement
We have decided, even though it's not legally required, to require GGG (Geimpft/Genesen/Getestet – proof of vaccination / recovery / test) for everyone, so that we can all feel comfortable.
We'll be checking your GGG status in the hall just outside the studio – please wait there for the teacher to come out to you.
Getestet (tested): A small note: doing self-tests can take quite a long time for both you and the teacher, therefore we need you to come with proof from one of the official antigen-test centres. Tests of course need to be valid for that day (which means you'll need a new one each week).
Geimpft (vaccinated): you must provide proof of full vaccination protection; at least 14 days must have passed since the last required single vaccination.
Genesen (recovered): we require proof of a positive PCR test that was performed at least 28 days and at most six months ago. After the six months, those who have recovered need proof of a single vaccination that was at least 14 days ago.
Of course we want to keep things as simple as we can, so: once you show us your proof of vaccination or recovery, we'll make a note of that so you don't need to show it every week.
Hygiene Rules
Hygiene regulations of course also apply. People with Covid-19 symptoms, or who have been in contact with someone with Covid-19, are not allowed to attend class. Our hand washing station is there for you when you enter the studio as usual. We'll keep the windows open during class to ensure air flow.
Please make sure to wear a mask in the hallway and when using the bathroom. You can take it off as soon as you reach your dance area. While dancing you don't have to wear a mask.
Contact Tracing
We will keep contact information from each participant (name and address, course time) for 4 weeks, so that in case of an infection the chain of possible further infections can be traced properly. Please only register for a course if you are willing to give us this information; we'll contact you about any information as needed.
Your Responsibility
When you sign up and participate in our courses, you do this at your own risk. We'll do all we can to make it as safe as possible, but of course we cannot make any guarantee. By participating, you acknowledge that you're aware of the risk and that SwingStep GmbH can't be held responsible for possible infections.
You also promise that you will follow our hygiene rules, to protect yourself and others.
Regulations
If you'd like to read the regulations from the government ministry, follow this link (text is in German)
What people say about SwingStep in Heidelberg
Pure good mood, more entertaining than jogging or jumping rope. I am always in a good mood in the end.

Werner
I loved swing from the first moment on, but I didn't expect that the classes would be so much fun. They are! Especially because of partner changes (interesting and you cannot be unlucky).

Eva
Dancing Lindy Hop relaxes me and clears my mind. I look forward to it every week.

Stefan
The best intensive course I've ever been to: thoughtful and thoroughly planned lessons, and a close community feel thanks to the limited numbers and the friendly teachers and admin

Josep
Swing is a dance that is a lot of fun because you can just try a lot of things and it's not a problem if a move goes wrong.

Lisa
Impressions of what to expect from a Lindy Hop class