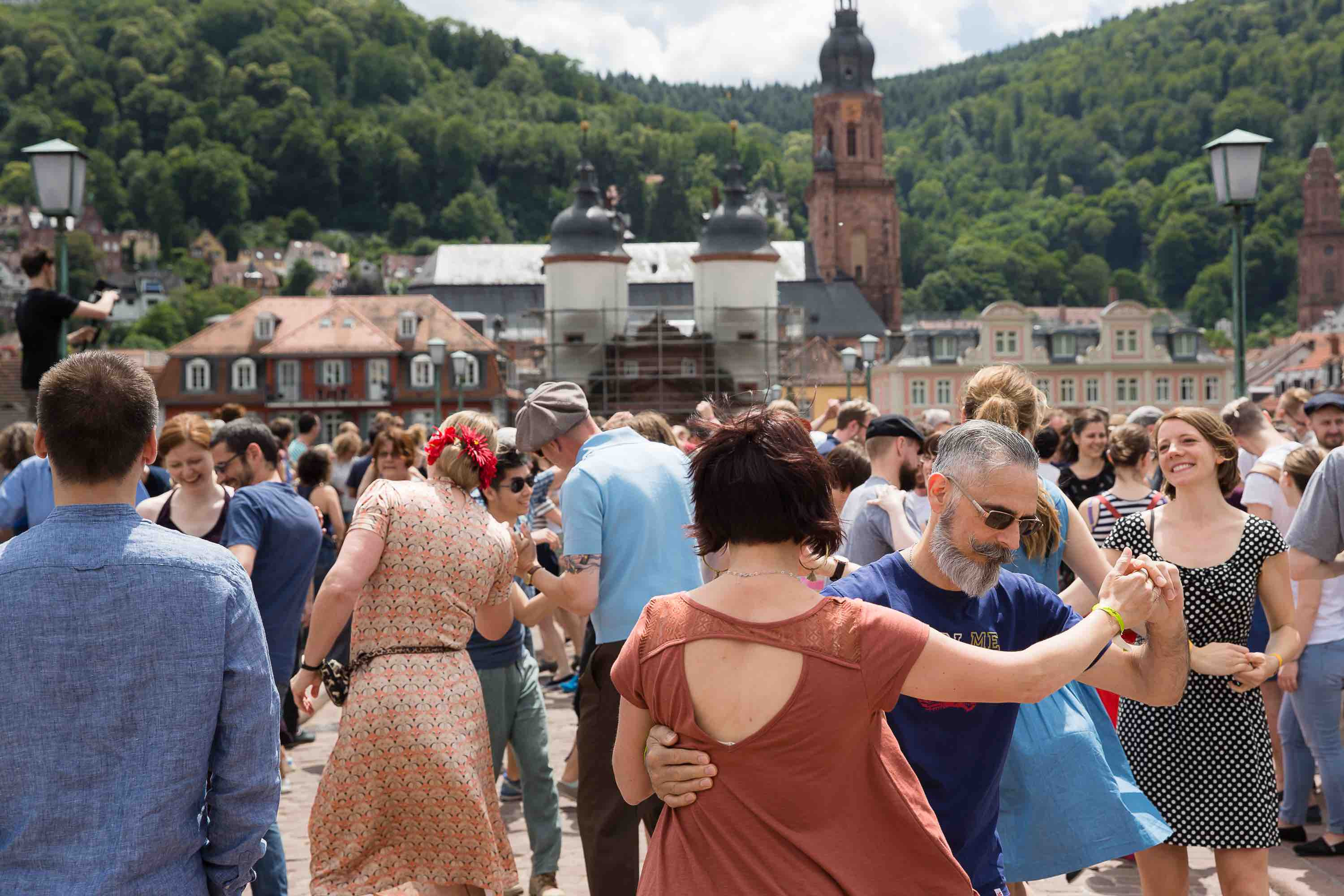 Lindy Hop Rocks Heidelberg
Have fun with new friends and recharge your energy with dancing and music!
In Heidelberg, as a community we don't take ourselves too seriously. Whether casual dancers or professionals like some of our teachers, we all meet to be social and enjoy an evening of dancing.

We have the same mix of people that you find in Heidelberg itself: students, academics, working people with families, people from Germany and also from everywhere in the world. What brings us together is the energy we get from cultural enrichment, laughter and the joy of movement and music.
Learn Lindy Hop from beginner to advanced with us using our:
Full Pass
*All you can dance*
69€ / 30 days
Best deal
Start anytime!
Join any drop-in and take any course
Class video summaries
Included: Online Pass Program
The first 7 days for free
Pause or cancel anytime
We'll send you an automatic payment reminder before each payment.
If you dance more than 3 times within 30 days, this subscription is the best option for you.
Location
SwingStation Kurfürsten-Anlage 58
69115 Heidelberg
The entrance is on the eastern side of the building, reachable from the Kurfürsten-Anlage itself or from the Kirchstraße. Our studio is on the ground floor, at the end of the hall.
Public Transportation: many busses, streetcars, trains; stops "Hauptbahnhof" or "Stadtwerke".
Parking: please do not park in the yard, the parking spaces don't belong to us and you might get a ticket. It's hard to find parking spots in our area, so you should plan in some extra time. You can try to find street parking in the Kirchstraße or Vangerowstraße, or you might need to go to a nearby Parkhaus (e.g. P1 in the Poststraße) and walk from there.
Pure good mood, more entertaining than jogging or jumping rope. I am always in a good mood in the end.

Werner
I loved swing from the first moment on, but I didn't expect that the classes would be so much fun. They are! Especially because of partner changes (interesting and you cannot be unlucky).

Eva
Dancing Lindy Hop relaxes me and clears my mind. I look forward to it every week.

Stefan
The best intensive course I've ever been to: thoughtful and thoroughly planned lessons, and a close community feel thanks to the limited numbers and the friendly teachers and admin

Josep
Swing is a dance that is a lot of fun because you can just try a lot of things and it's not a problem if a move goes wrong.

Lisa
Impressions of what to expect from a Lindy Hop class
New to swing? Take your first beginner Lindy Hop lesson with SwingStep!
It's easy to join because:
No experience needed! – Every journey starts with the first steps.
No special clothing or shoes required! – Come as you want or get inspired here.
No-one gets left behind! If you miss a class, you can use the video summary to catch up, or keep up your training using our online program or in-studio practice times.
No waiting! Start any time.
No risk, lots of fun! The first 7 days of your subscription are free.