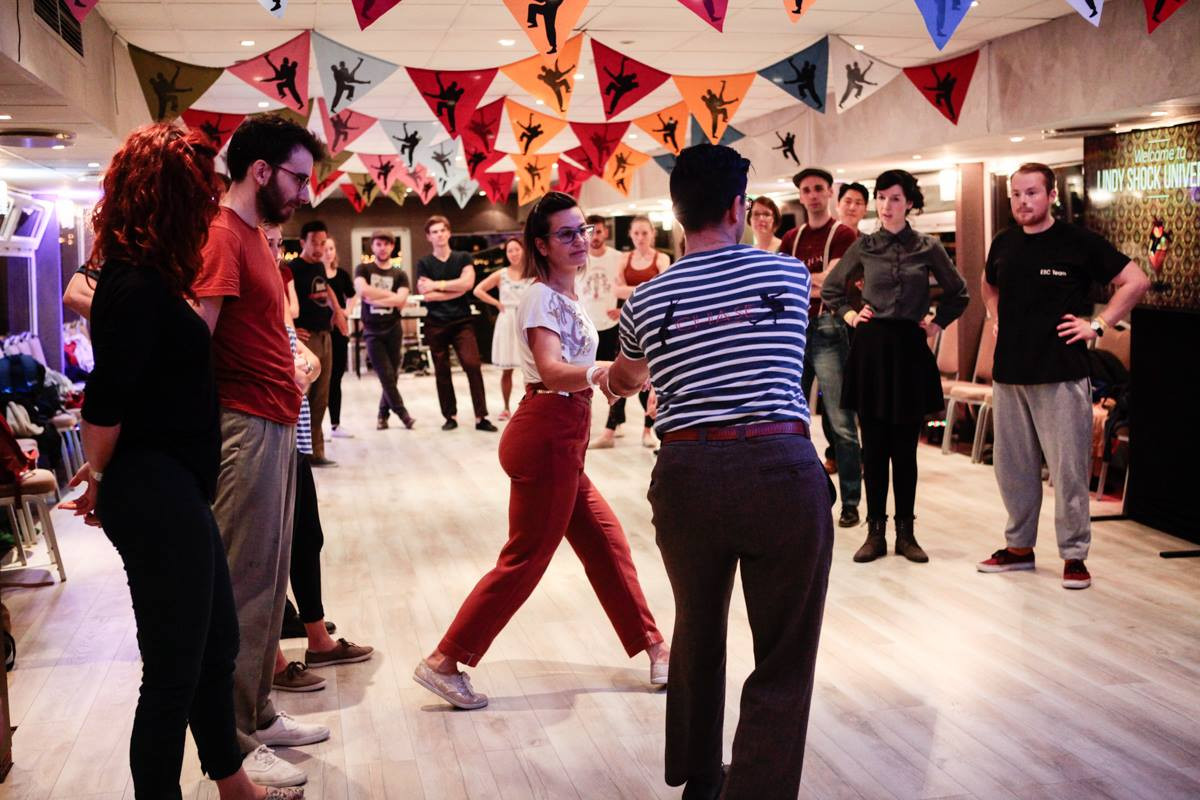 Dress to dance!
Get yourself in the right mood for dancing –
even if it's "just" in your living room.
The way you dress influences the way you dance. What's most important to you about the clothes you wear for dancing? Is it that you look good in them? Is it that they allow you to move the way you want? There is a way to get the best of both worlds: retro look and modern comfort, clothes made for movement that boost your inspiration for the vintage style of dancing you love so much: Casually Fancy!
I custom make men's and women's trousers on individual order!
Every body is different and every body wants to move differently. This is why I adapt my pattern to your individual measurements and wishes!
You choose the color and style, and I sew them to your specifications.
Made to fit, made to move!…and handmade with love by Katja
Katja's story
What's your experience when shopping for trousers? Depending on the current fashion trend you can find high-waisted trousers that play on the vintage look. But too often, mainstream brands have their sizes and shapes modelled after – well, models! Slender figures, slim waist and slim hips, delicate legs… But if you are a dancer, a sporty person, your muscles need some space in those pant legs!
My personal experience was: If I can fit my legs and buttocks in the trousers, they end up way too big around the waist. And vica versa, a pair that would fit nicely around my waist would make my legs look like sausages trapped in their casing. That's why I started to create trousers for myself and soon learned that I was not alone with my struggles! Many people asked where they could buy those, and that's how Casually Fancy was born.
Where do you shop when you need new trousers? One month fast fashion offers some vintage-looking silhouettes, the next those styles are gone and it's all back to modern, slim-legged, low-waist business trousers that just don't match the vibe of swing dancing. Maybe you don't enjoy hunting for just the right thing in shops and prefer online shopping. But then how do you know they'll fit right and feel comfortable enough for dancing?
Here's where Casually Fancy comes in: trousers with a vintage touch, but comfortable like sweatpants, produced exactly to your measurements – made to fit your body and created with dancing in mind. And the care-free experience doesn't stop there: the trousers are machine-washable and pretty much iron-free! So you don't have to worry about what to wear anymore, instead, spend your time enjoying your dancing!
How it works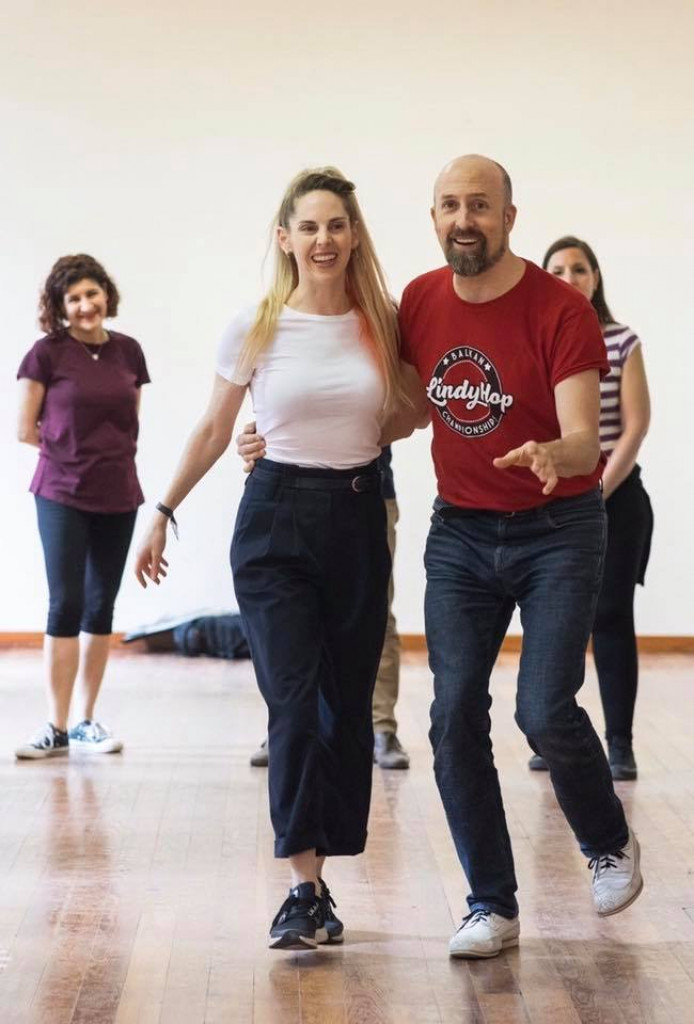 There are two different styles for women: either classic with waistband, or paper bag style folded top (like Jo Hoffberg is wearing)…
Then men's pants are high-waisted and have little wing-tips in the back in reference to wearing suspenders.
You can see the color choices in the middle picture. If you are looking for something specific, just let me know, maybe I can find it!
The material I use is a blend of viscose for softness and nice touch, elastane for stretch and ease of movement and polyester so they hold their shape, can be machine washed and mostly do not need ironing…
Price: 169€* per pair
*Price includes VAT,
Shipping included for Germany, additional shipping cost for EU/world
FAQs
How do I measure myself?
The basic measurements I need are: your waist circumference (smallest part around the belly), your hip circumference (widest part around the buttocks), and the inseam length (from the point where the 4 seams meet in the crotch down the inside of the leg to where the trousers should end).
What payment options are offered?
You can pay via bank transfer (also Transferwise) or Paypal.
All payment information will be provided to you in an invoice. Once your trousers are finished and the payment has arrived your item(s) will be shipped.
Happy Customers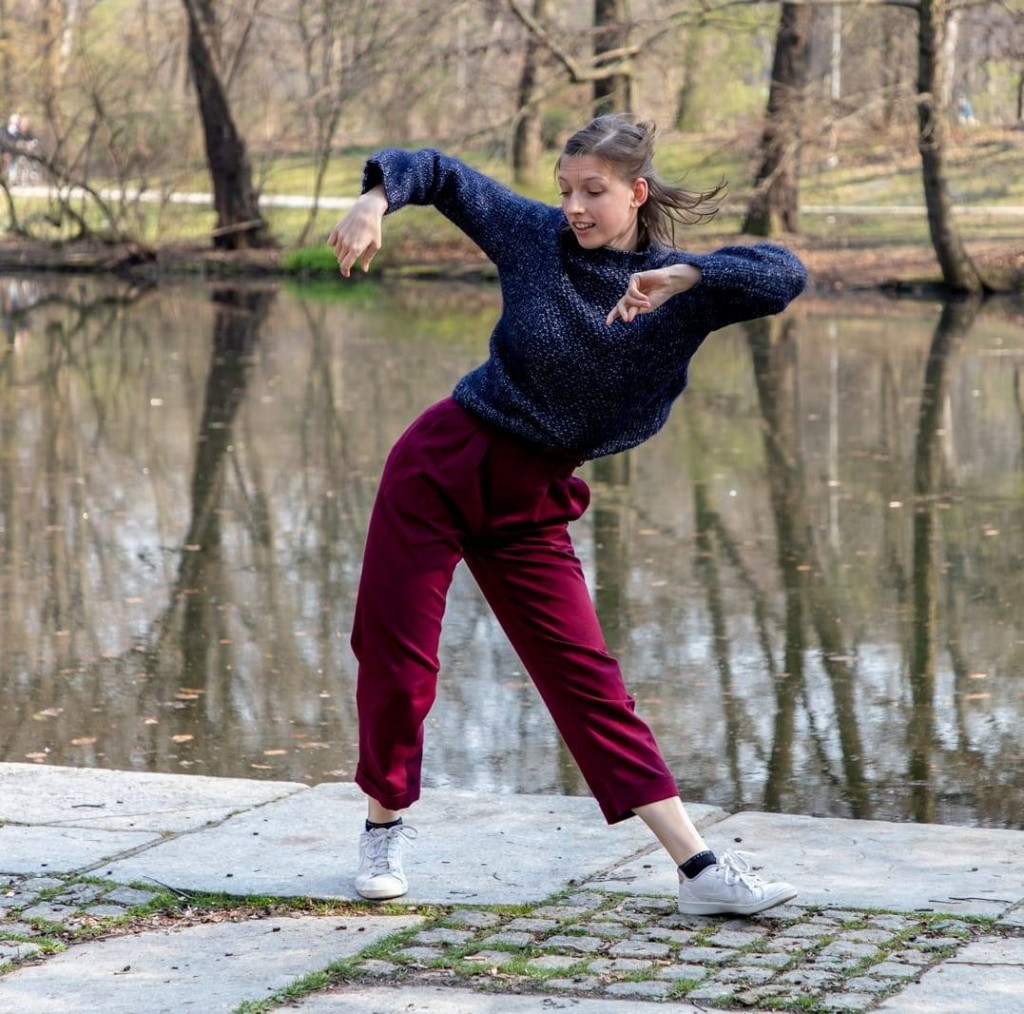 Happy customer voices
In love with Casually Fancy pants. Katja, you are a magician.

Slava
Since I got your pants I've had a hard time wearing anything else.

Valentina
Received the pants today. They are so perfect. Had to wear them dancing tonight already. I adore them. They're just the best fit.

Krystel
Die Hose ist bereits angekommen vielen Dank dir! Ich hab sie direkt eingepackt für die Premiere beim Festival in Graz und es tanzt sich super darin. Sehr bequem, die trägt sich wirklich angenehm und passt einfach so gut

Julius
They are super comfy! Going to be great for dancing and just general wear! Thank you!! Will definitely come back for more at some point!

Ailsa