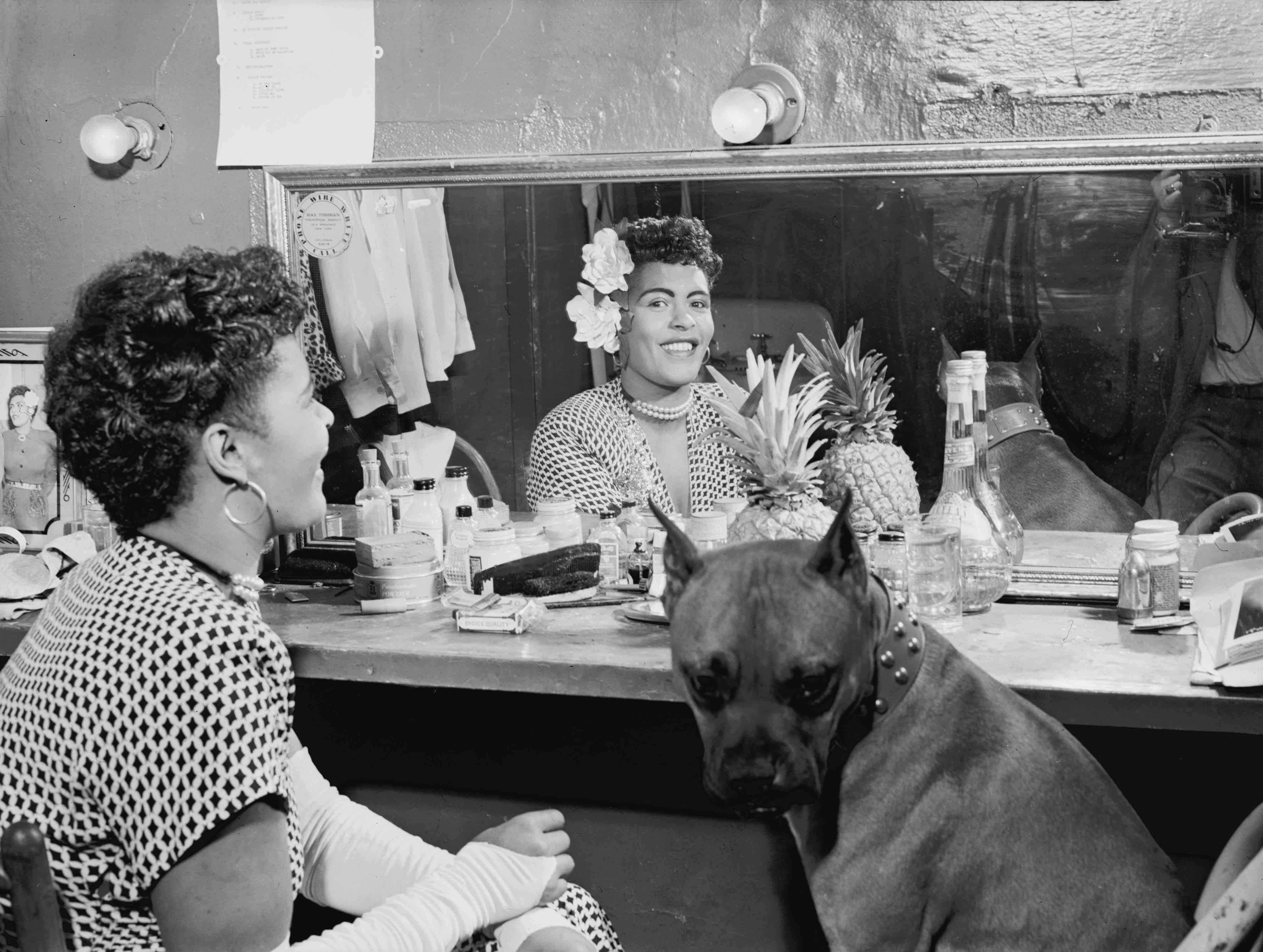 What to Wear for Class
Our recommendation is that you wear something that you feel comfortable moving in. There's no need for special sports clothes, but be prepared to sweat a bit, especially when dancing to faster music! So you might want to bring a spare T-shirt in your bag in case you'd like to freshen up.
What About the Shoes?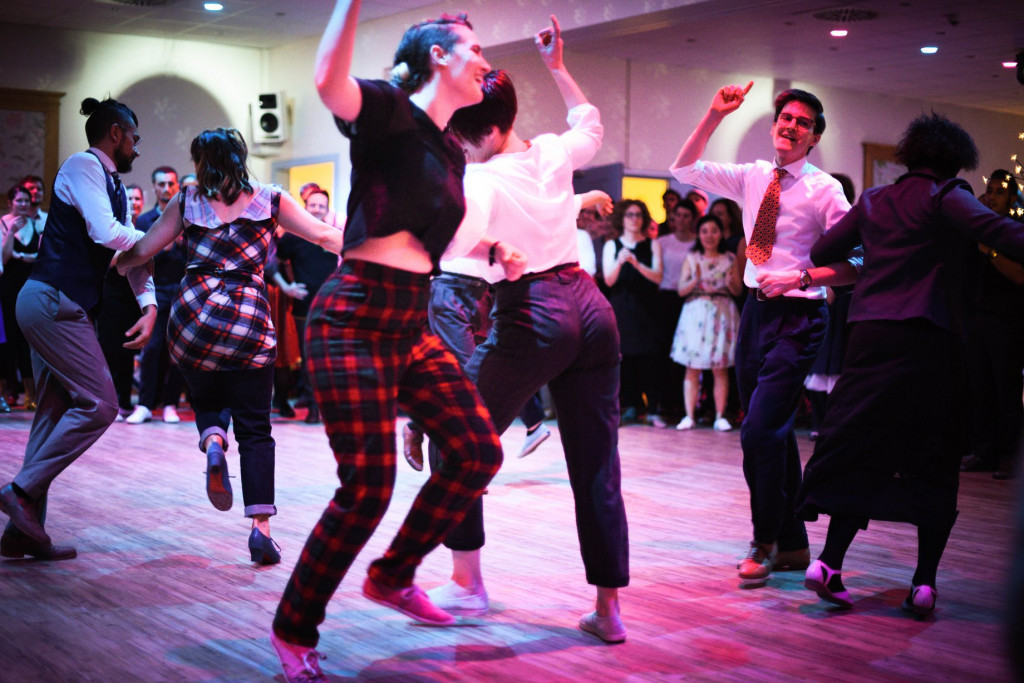 There are two popular types of shoes worn by most people who dance Lindy Hop:
All-leather shoes. These can be used both for class and evening wear. Leather soles are the best option to dance on a good wood floor, they let your feet slide a little bit which protects your knees when dancing. For women both flats and heels are popular; if you choose to wear heels for example for a fancy party, then make sure the heel is not too high (a broad heel of around 3-4cm height is comfortable, and suits the vintage culture) and you might want to bring a pair of flats with you for a longer night of dancing. Overall, leathers are a classic choice of dance shoe for both class and evening wear.
Keds or other light shoes. Light sneakers are also very popular among lindy hoppers. The biggest advantage is of course that they are very comfortable. Look for sneakers with a smooth plastic or rubber sole so that they don't "stick" to the floor too much. A little tip: If you found your favorite comfortable shoe, but the sole is just not right for dancing, find a good shoemaker and let your sole be changed into leather or suede. Both soles are good for dancing and the price for resoling is about 20-30 € for a pair of shoes, depending on the shoemaker.
Casual Evening Wear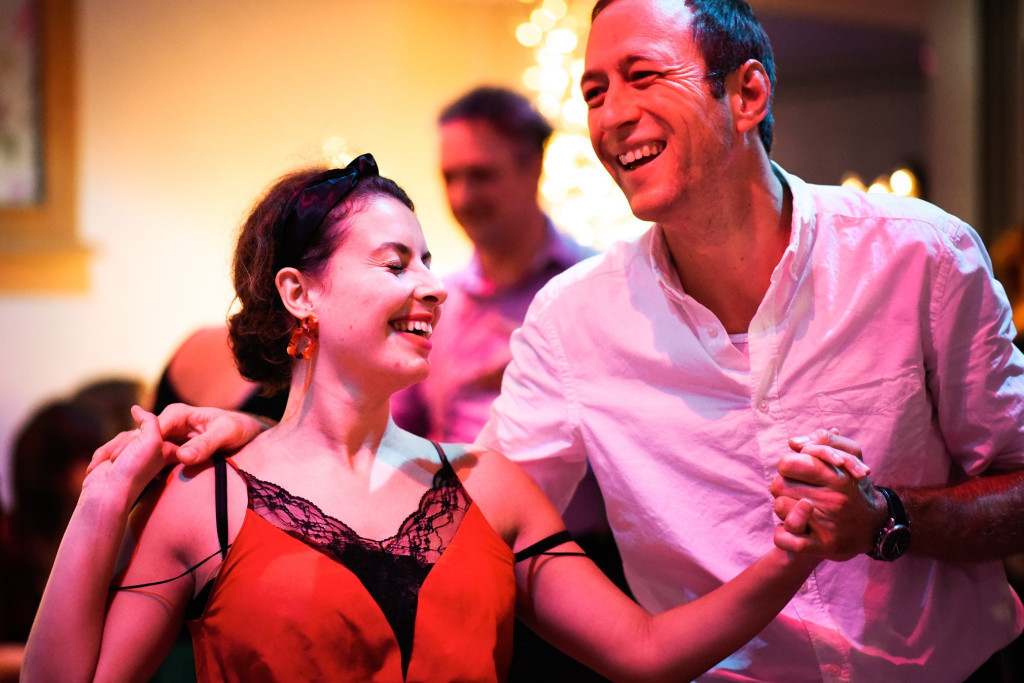 Most evening social dances are typically pretty casual. Some people like to dress up a bit more, others a bit less. Most people choose to wear something that they might also wear if they'd meet friends for a drink in the evening – what we like to call "Casually Fancy".
Fancy Evening Wear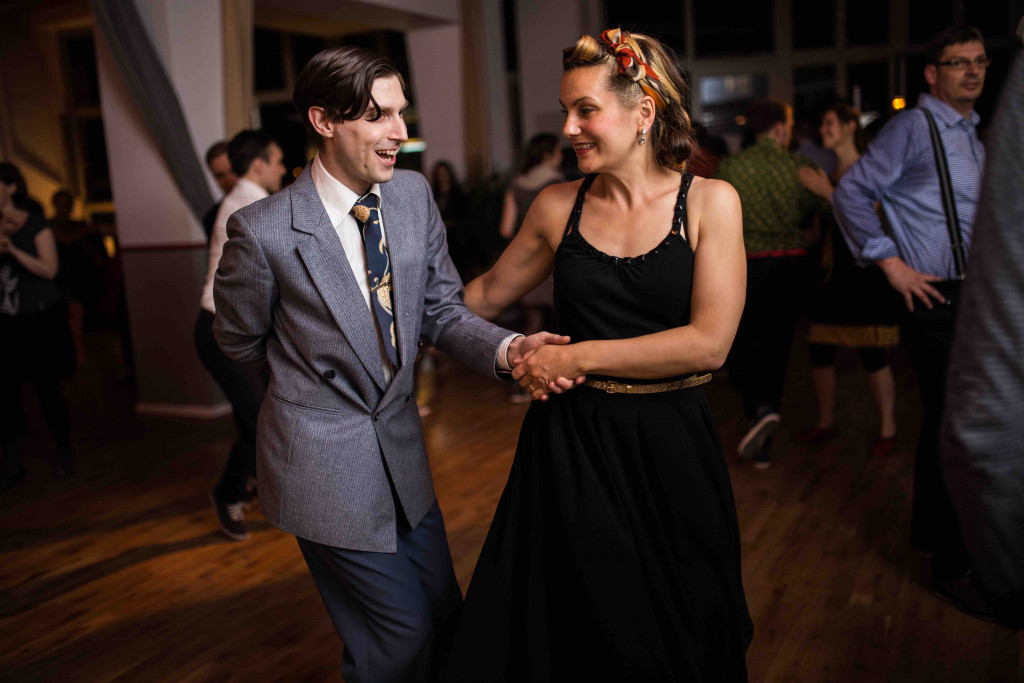 If you go to a slightly bigger event, or when there is live music etc, we usually dress up more. Typically there are no specific dress codes, but as people become more and more experienced they might start to get curious about vintage fashion or tend to wear more classy evening wear.
Where Can I Buy Clothes? Get Casually Fancy!
Custom-made men's and women's dance trousers made by SwingStep co-founder Katja Uckermann – right here in Germany!
Casually Fancy offers exactly what the name implies – pants that can be paired with any piece of clothing you can think of. Whether you prefer the vintage dress-shirt and waistcoat look, or the more modern aesthetic a t-shirt offers, you're bound to be pleased by how versatile these pants are. You can put them on for parties, for classes (they are slightly elastic!), or just show up to work in them for that extra bit of pizzazz in your everyday life. If you'd like to have a pair tailored for you, you can message Katja through Casually Fancy on Facebook or email to [email protected].