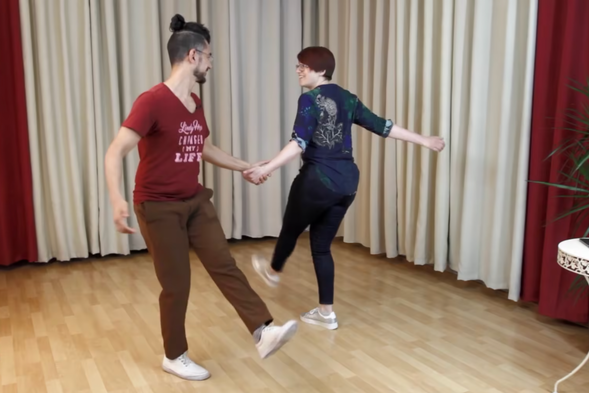 Kick Up Your Moves!
Fall In Love With Fast Dancing

Day & Time: Monday, 18:30 – 19:30
Dates: 12.06.2023 – 26.06.2023
Welcome to Charleston Land! We think that kick steps are wonderful, but it takes practice - and good technique - to truly savour them. In this course you'll deepen your understanding and ability to do kicks, and learn some exciting new charleston variations along the way. If you love dancing fast, this course will make you whoop - and if you don't (yet), then now is the time to fall in love 😉
What will I learn in this course?
This course will focus on kick steps themselves: how to make your kick steps more relaxed, how to travel with them, keeping good flow and rhythm. You'll also learn some great new variations. Each time we offer the course the variations will be different; a few examples are: hacksaws, hand-to-hand exits, tandem variations, opposite aeroplane, etc.
What should I know before I join this course?
This course requires a basic knowledge of how to do kicks and an overall Charleston repertoire, such as hand-to-hand, tandem, and aeroplane. For instance if you took our "Charleston Classics" course you'll have what you need to get the right level of challenge in this course. If you have less Charleston experience, then this course might not be right for you - feel free to ask us if you're not sure.
Want to Join Kick Up Your Moves!?
Step 1: Select a payment option below and fill out the form
Step 2: (While logged in) Select this course again and sign up
6-Class Package for a couple
210€
Start anytime!
Join multiple drop-ins, or take a full course
Class video summaries
If you want to take classes with us, but you don't want to commit to a subscription yet, then this option is for you.
This package is intended for couples who want to sign up for classes together.
You can also purchase this package as a single person, to have even more tickets available for yourself 🙂
City Pass
*All you can dance*
69€ / 30 days
Best deal
Start anytime!
Join any drop-in and take any course
Class video summaries
Included: Online Pass Program
The first 7 days for free
Pause or cancel anytime
We'll send you an automatic payment reminder before each payment.
If you dance more than 3 times within 30 days, this subscription is the best option for you.
Here's where Kick Up Your Moves! takes place:
SwingStation Kurfürsten-Anlage 58
69115 Heidelberg
The entrance is on the eastern side of the building (toward Stadtwerke), nicely reachable from the Kurfürsten-Anlage itself or from the Kirchstraße.
Public Transportation: many busses, streetcars, trains; stops "Hauptbahnhof" or "Stadtwerke".
Parking: street parking, best-found in the Kirchstraße. (Please do not park in the yard.)