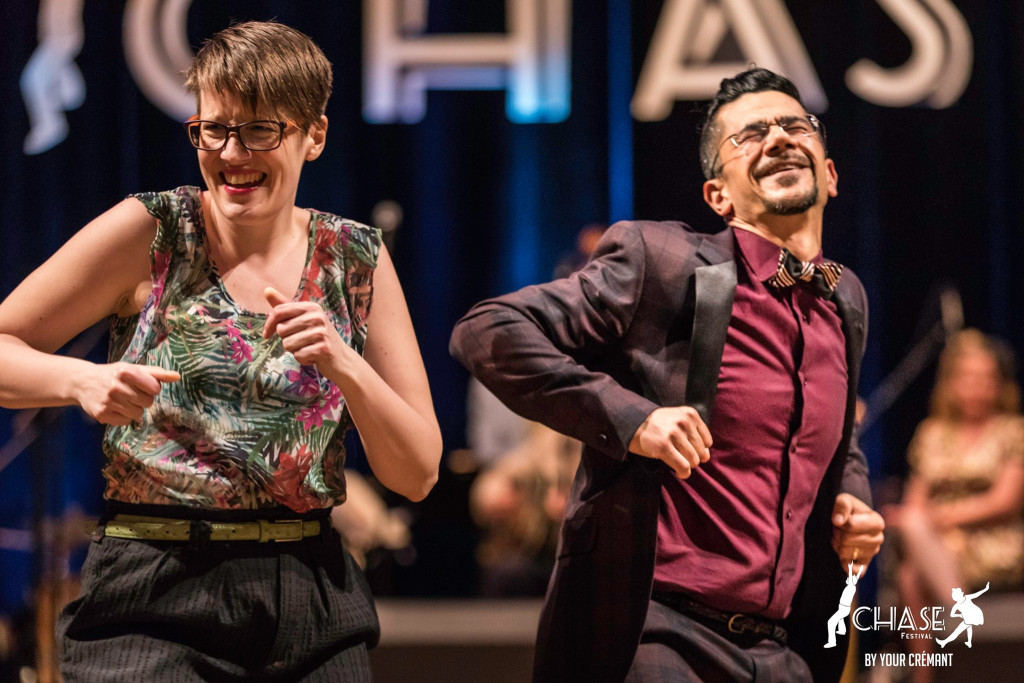 Lifelong Learning
Practice, Connect, Explore

Day & Time: Wednesday, 21:00 – 22:00
Dates: 08.11.2023 – 13.12.2023
The goal of this course is to keep moving your Lindy Hop forward, while always returning to strong fundamentals. The content will vary based on the teachers' choice and be adapted to your group's needs as you develop. What makes the Lifelong Learning course different from our other courses is that it's not based on learning (or reviewing) a specific topic; it's a group to stay with and train with over time.
What will I learn in this course?
The content varies; example topics are:
Fancy turns and variations
Geeky exercises to improve your rhythm, connection, and quality of movement
Music: finding a deeper appreciation, and connecting your dancing more
Developing your personal style
Fast dancing
Classic routines and combos
What should I know before I join this course?
In order to join a Lifelong Learning class you should have a solid Lindy Hop foundation. Because the course covers a huge range of topics, different skills will be needed at different times. Overall here are our recommendations:
Moves: you should be comfortable social dancing classics like Swing Outs, Tuck Turns, open position passbys, at a variety of tempos.
Rhythm: you should be able to easily dance both triple steps and kick steps, and feel comfortable choosing between them in your social dancing.
Music: you should be familiar with, and have an appreciation for, dancing to swing music; your dancing reflects the music you hear.
One way of making sure that you have these skills covered is to first take our other core courses:
Lindy Hop Starter Kit (former Swing 1)
Lindy Hop Fundamentals (former Swing 2)
Tucks and Turns (former Swing 3)
Swing Outs & Swivels (former Swing 4)
Charleston Classics (former Swing 5)
Sugar Pushes, Charleston Swing Outs (former Swing 6)
If you augment these courses with some Solo classes, as well as lots of practice and social dancing, you'll definitely have everything you need to be able to handle the challenges of this course.
Of course, we don't want to insist that you must get all your Lindy Hop knowledge from us! You might have picked up your skills elsewhere, which is absolutely fine too.
And, if you're not sure whether the course is right for you, don't hesitate to ask us 🙂
Want to Join Lifelong Learning?
Step 1: Select a payment option below and fill out the form
Step 2: (While logged in) Select this course again and sign up
6-Class Package for a couple
210€
Start anytime!
Join multiple drop-ins, or take a full course
Class video summaries
If you want to take classes with us, but you don't want to commit to a subscription yet, then this option is for you.
This package is intended for couples who want to sign up for classes together.
You can also purchase this package as a single person, to have even more tickets available for yourself 🙂
City Pass
*All you can dance*
69€ / 30 days
Best deal
Start anytime!
Join any drop-in and take any course
Class video summaries
Included: Online Pass Program
The first 7 days for free
Pause or cancel anytime
We'll send you an automatic payment reminder before each payment.
If you dance more than 3 times within 30 days, this subscription is the best option for you.
Here's where Lifelong Learning takes place:
SwingStation Kurfürsten-Anlage 58
69115 Heidelberg
The entrance is on the eastern side of the building, reachable from the Kurfürsten-Anlage itself or from the Kirchstraße. Our studio is on the ground floor, at the end of the hall.
Public Transportation: many busses, streetcars, trains; stops "Hauptbahnhof" or "Stadtwerke".
Parking: please do not park in the yard, the parking spaces don't belong to us and you might get a ticket. It's hard to find parking spots in our area, so you should plan in some extra time. You can try to find street parking in the Kirchstraße or Vangerowstraße, or you might need to go to a nearby Parkhaus (e.g. P1 in the Poststraße) and walk from there.