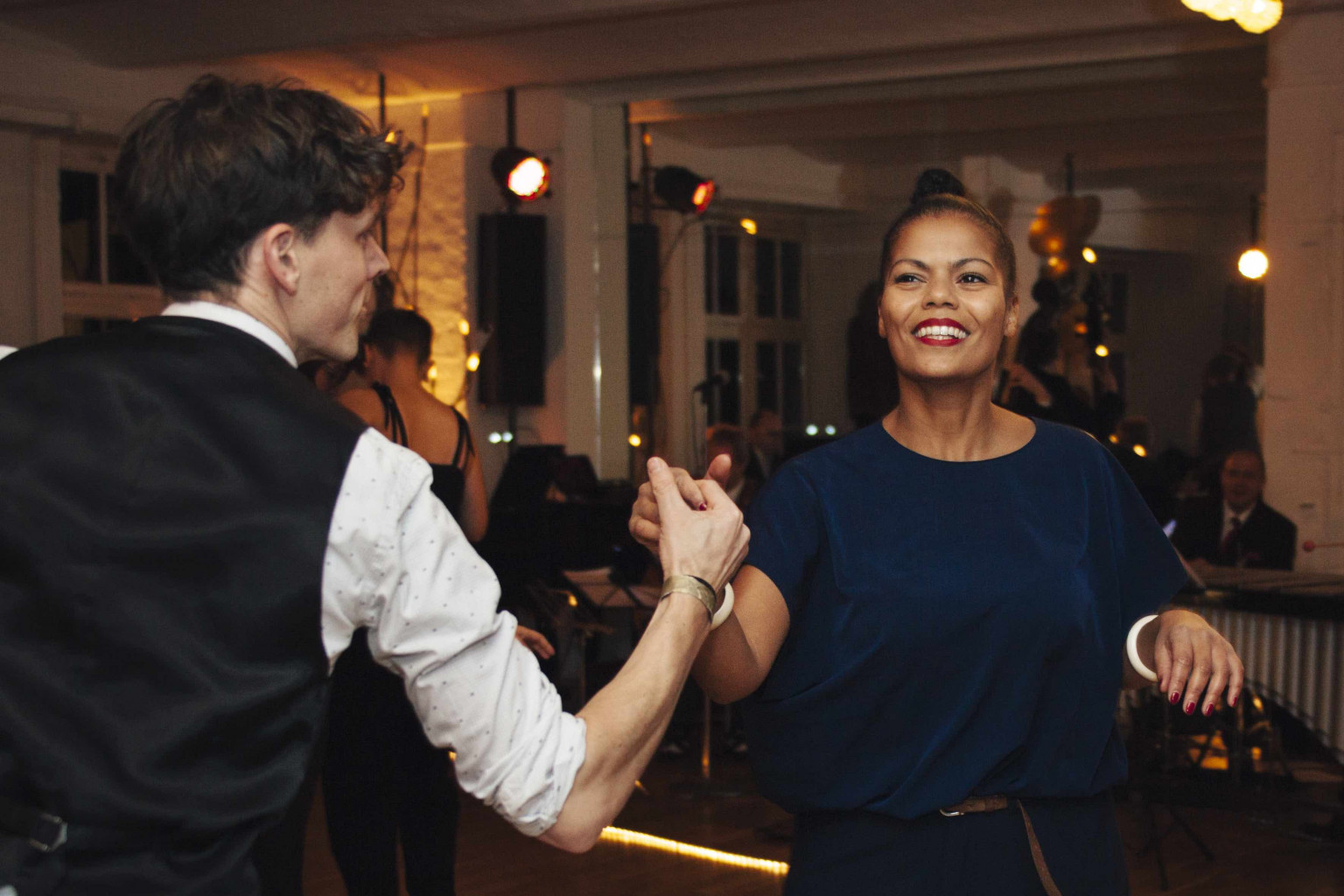 Tucks and Turns
Put Your Own Spin on It

Day & Time: Tuesday, 18:30 – 19:30
Dates: 23.05.2023 – 27.06.2023
Turns and spins are so much fun! In this course you'll learn techniques to dance them in rhythm with a partner and you'll expand your repertoire to include all sorts of fun variations.
What will I learn in this course?
The exact moves and concepts of the course will vary, based on what teachers value and think is best for you and the other students in class. Here are some common examples of what we do:
Charleston: tuck turn closed-to-open, tuck turn open-to-open; sailor steps
Lindy Hop: tuck turn closed-to-open; redirections and variations
Mixing: combining Lindy Hop and Charleston within your dancing
What should I know before I join this course?
You're comfortable with Triple Steps, and probably have done a little bit of Charleston too. You should be comfortable with a few steps in closed, as well as open position (passbys, sendouts, take-ins).
Want to Join Tucks and Turns?
Step 1: Select a payment option below and fill out the form
Step 2: (While logged in) Select this course again and sign up
6-Class Package for a couple
210€
Start anytime!
Join multiple drop-ins, or take a full course
Class video summaries
If you want to take classes with us, but you don't want to commit to a subscription yet, then this option is for you.
This package is intended for couples who want to sign up for classes together.
You can also purchase this package as a single person, to have even more tickets available for yourself 🙂
City Pass
*All you can dance*
69€ / 30 days
Best deal
Start anytime!
Join any drop-in and take any course
Class video summaries
Included: Online Pass Program
The first 7 days for free
Pause or cancel anytime
We'll send you an automatic payment reminder before each payment.
If you dance more than 3 times within 30 days, this subscription is the best option for you.
Here's where Tucks and Turns takes place:
SwingStation Kurfürsten-Anlage 58
69115 Heidelberg
The entrance is on the eastern side of the building, reachable from the Kurfürsten-Anlage itself or from the Kirchstraße. Our studio is on the ground floor, at the end of the hall.
Public Transportation: many busses, streetcars, trains; stops "Hauptbahnhof" or "Stadtwerke".
Parking: please do not park in the yard, the parking spaces don't belong to us and you might get a ticket. It's hard to find parking spots in our area, so you should plan in some extra time. You can try to find street parking in the Kirchstraße or Vangerowstraße, or you might need to go to a nearby Parkhaus (e.g. P1 in the Poststraße) and walk from there.