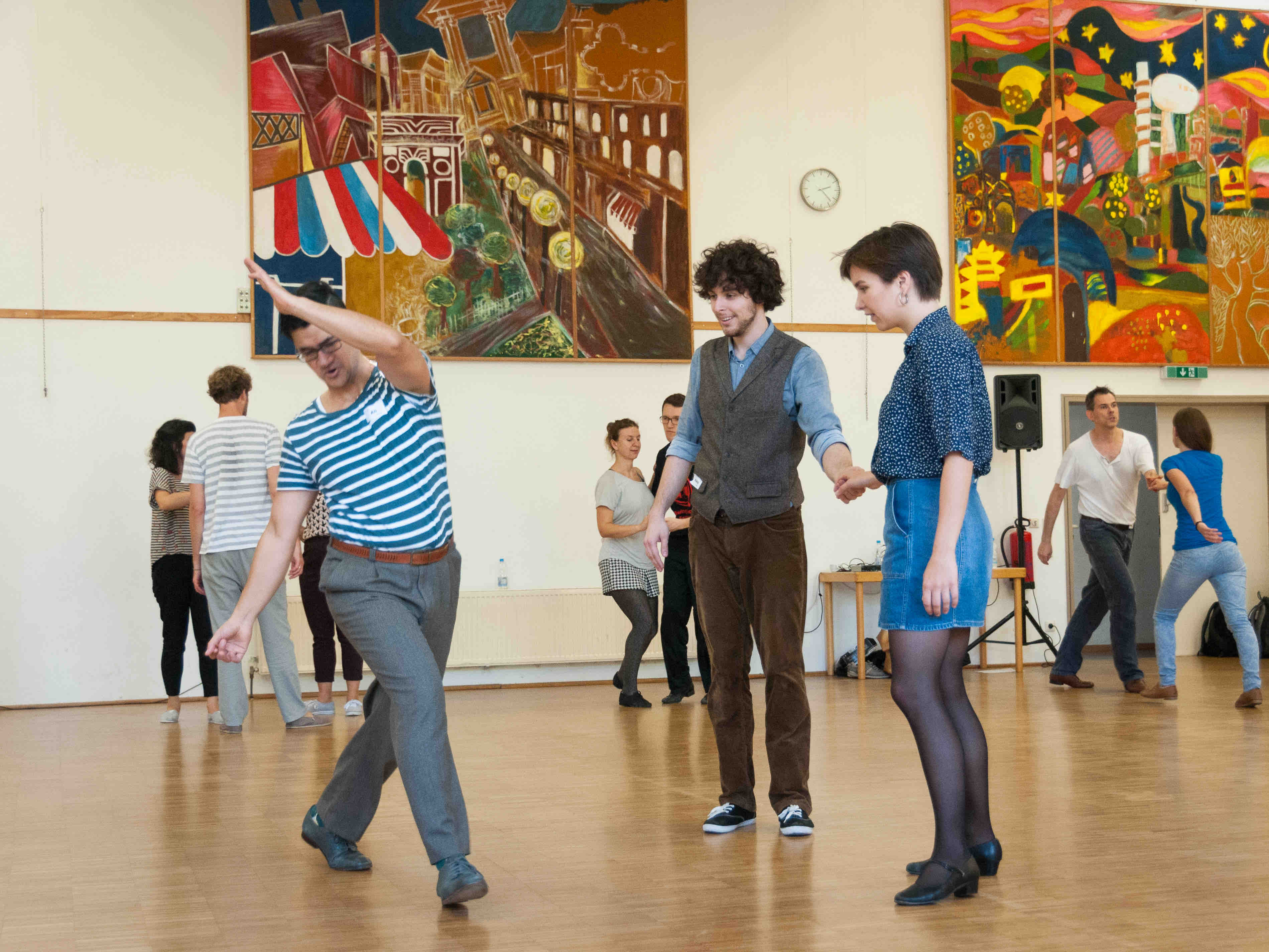 Looking for training that helps you build a solid dance pedagogy from the ground up, with a community that supports you on your journey?
We all become dance teachers out of passion. That's why losing students hurts… Did they get bored? Was it too hard? Didn't they like me? How did I fail to communicate my passion?
You want your classes to fill your students with the same joy and passion you feel, and let them inspire you just as much as you inspire them. You want to feel confident about your classes knowing that you can handle even the most difficult situation.
Whether you are new to teaching or have years of experience, you'll get many useful insights throughout the entire training that can help you make better decisions as a teacher.
We're working hard behind the scenes to get this program ready for you.
Please come back in January!
How this Course Works
In this course we're sharing our knowledge and skills, developed over more than a decade. They have helped us become recognized as sought-after teachers, allowing us to share our dance and teaching skills at dance workshops all around the world.
And, after years of sharing our knowledge with other dance teachers through seminars and coaching, we have now finally created an online training program. This program gives you a more extensive dance teacher's education than we've ever been able to offer before – that you can take advantage of from the comfort of your own home or studio, and with more content, more support, more implementation time, at a very affordable price.
What you'll learn
Throughout this course, we'll guide you and help you build up a solid knowledge base with skills that allow you to help your students get to their learning zone quickly and stay there longer. Using this course, you will be able to address these, and many more, questions…
Lessons 1 – 5:
How do I share the things about the dance that are really important to me?
How can I build up my material in an engaging and fun way?
How can I make sure my students really focus on the important things?
How can I analyze a move to be ready for my students' questions?
How do I plan a class that students will love?
How can I make sure my students come back for more?
How do I give my students clear tasks?
How can I spontaneously change my plan to better match my students' needs?
Lessons 6+:
How can I best handle conflicts between me and my partner or my students?
How should I talk so that my students listen?
How should I give feedback to my students?
How can I get instant attention from my students?
How can I make sure I can answer my students' questions?
How do I read the room to know when to move on?
How can I be sure I have fresh material to share with my students?
How do I ensure my students develop their own ideas and skills as dancers?
How can I take care of my own needs as a teacher and artist?
How can I design a progression with a consistent throughline?
Price
Monthly Subscription
coming soon
Including
full access to all our Pedagogy AND Dance online courses! That's 90+ hours of instruction videos covering beginner to advanced content!
access to regular Zoom activities such as "Train Together" (using our courses or your own material), Jazz Roulette, Socials and more!
100% money-back guarantee on your first 30 days.
You can
pause or cancel anytime without any fees.
benefit from or contribute to our Pay-it-Forward fund.
We're working hard behind the scenes to get this program ready for you.
Please come back in January!
FAQ about Teachers Pass Subscriptions
FAQ about the Online Program
Getting into the Learning Zone
All learning happens outside your comfort zone!
What makes a great teacher is their ability to elegantly dance on the edges of their students' comfort zones and build the trust with their students to stay on that edge until they get comfortable… and then, repeat!
Inside our comfort zone, we fulfill our need for certainty; we are at ease with what knowledge we have. Simultaneously, we feel a need for exploration, adventure and belonging. People who come to your dance classes are hoping your lessons will get their needs met. They might ask themselves questions like: are you the right guide? will they feel a challenge and enjoy being outside their comfort zone? will they feel safe?
The "learning zone" is a narrow and ever-changing band; the place where our needs for exploration and excitement can be met. While students are engaged there, they'll develop familiarity; and with that, it transforms into a comfort zone and no longer brings growth and adventure. At this point boredom might creep in and we might even lose this student… unless we can begin that dance all over again by pushing further.
Unfortunately, this motivation to push outside the comfort zone can easily make you stray too far and pull your students into the "panic zone". This is a place of emotional distress; students feel overwhelmed and no longer find enjoyment. Each time a student enters the panic zone, they lose trust in you as a guide; if you don't know how to regain their trust you might lose the student.
The clarity you have about your values and preferences; the choices you make prior to class;
the relationship and trust you build with your students; and how well you adapt to your students' needs in the moment; all these will determine how well you continuously keep each one of your students inside their learning zones throughout your class, and – more importantly – what kind of dancers they will become.
Our trainings have been appreciated everywhere
In this course you'll learn the pedagogic concepts and techniques that have helped us become recognized as sought-after teachers, allowing us to share our passion for the dance in workshops all around the world.
Just as importantly, we have contributed to the vibrant dance communities in Berlin and Heidelberg where we teach weekly classes together with our team. This experience helped us understand both how to work with a group of students long-term, nurturing them week after week with inspiration, as well as high-impact weekend festival teaching.
In our local schools, we have provided ongoing coaching for many teachers, taking them from their very first teaching experiences, all the way along a teachers' journey. Some of those teachers have become members of our main team!
We've trained teachers in:
Chile (Santiago)
Czech Republic (Prague)
Denmark (Copenhagen)
Finland (Helsinki, Oulu, Tamper, Vaasa)
France (Ardèche, Bordeaux, Grenoble, Montpellier, Poitiers, Strasbourg, Tours)
Germany (Berlin, Duesseldorf, Hamburg, Heidelberg, Leipzig, Munich, Nuremberg)
Hungary (Budapest)
Israel (Tel Aviv)
Italy (Policoro)
Netherlands (Amsterdam, Utrecht)
Norway (Oslo, Trondheim)
Poland (Warsaw)
Portugal (Lisbon)
Slovakia (Bratislava)
Spain (Barcelona, Palma)
Sweden (Linköping)
Switzerland (Bern, Winterthur, Zurich)
UK (Durham, Edinburgh, London)
Meet Your Teachers
In these courses, you'll get to know Kris and Ali, two passionate swing dance teachers from Germany.
Together, Kris and Ali have been teaching swing dancing to people of all experience levels – from complete beginners all the way to training teachers in our unique teaching methodologies. They have been teaching all around the world: from most cities in Europe, to Israel, Chile and back again. This program contains their best ideas, things that work everywhere for people from all walks of life.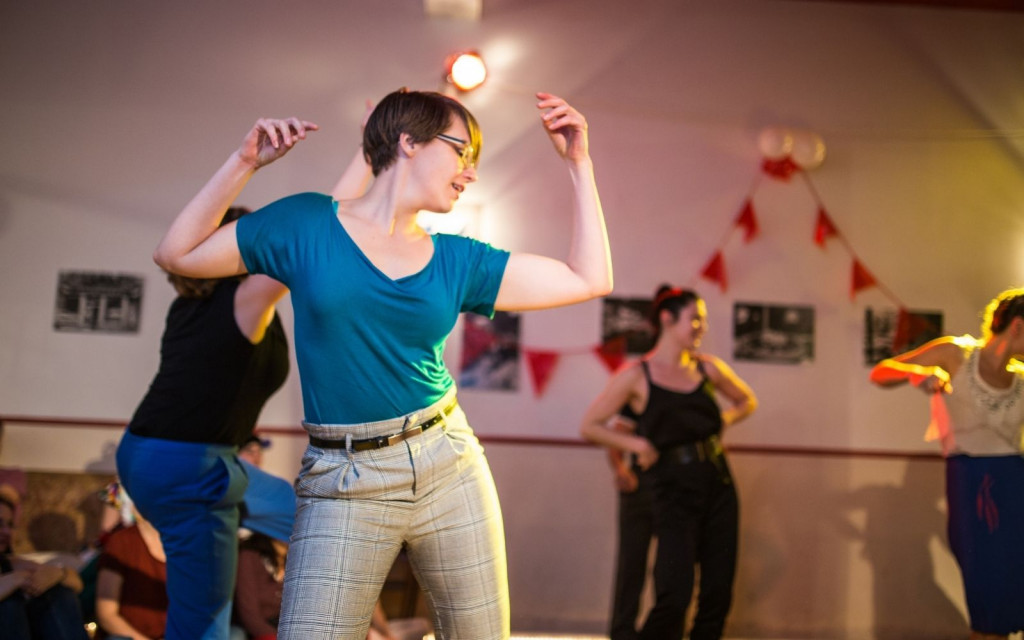 Kris Blindert
Before Kris dedicated herself to being a Lindy Hop and Jazz teacher, she worked in astronomy; researching, teaching, and sharing with the public. She always loved teaching, and her years of experience with such different topics have honed her skills so that she can break down very complex things into easy-to-understand pieces. Her goal is always to give you as easy a learning experience as possible without watering down the dance.
Ali Taghavi
Ali began his career as a chemist in Alzheimer research. After 4 years of being fully immersed in the latest discoveries in Alzheimer prevention and treatment studies, he recognised that swing dancing offers all the benefits of a healthy lifestyle in one single activity. So he decided to dedicate himself to helping busy people live strong, happy and passionate lives through swing dancing.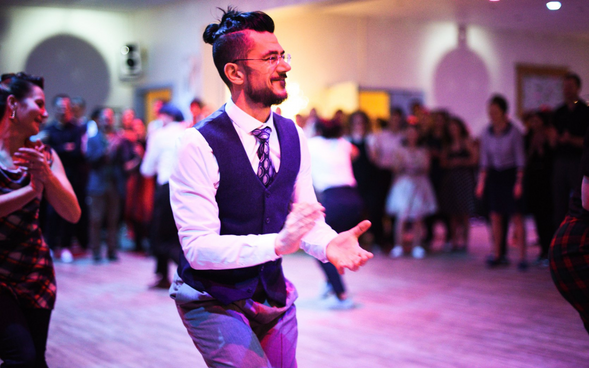 What Teachers Say About Us
"After 16 years teaching dance, this is the best course I found to be more clear and conscious on my teaching."
Basilio Gonzalez, Mallorca
Katja and Ali stand out as teachers who have developed their very own approaches to explaining dance techniques in Lindy Hop. After years and years of constant development of their ideas and classes, their school of dancing has gained many followers.

Leapinlindy, Bern
"My approach to teaching is to spread this outstanding feeling with the community – I found this in this event every minute and gained so much more: Reflection, inspiration and just more love for what we do!"
Rike Papajewski, Jena
"It was really a tremendous experience. All the classes were very complete and relevant to our needs as teachers. I recommend it to all teachers, experienced or not. This workshop has given me all the tools to become a good lindy hop teacher! Thanks a lot!"
Liane, Paris
"A week of full sharing between classmates and teachers! We were taught and experienced more than my brain can afford in a week. Thank you very much for this!"
Dani Morillo, Barcelona SwingCats
"Looking at the schedule, I was expecting a great summit. I was wrong: it was phenomenal! Less 'hands on' than I expected, it however changed more profoundly not only how I teach, but how I plan my teaching and the development of the school"
Eric, Zürich, Switzerland
You want to know more about us?