Continue your Lindy Hop for Beginners course with an Online Pass. You'll have access to our full Swing 1 course, and much more!
Our Online Pass
Online Pass Monthly Subscription
29 €/m
Including
full access to our Lindy Hop for Beginners courses, as well as all our other online courses! That's 90+ hours of instruction videos, including both partnered Lindy Hop and solo classes.
access to regular Zoom activities such as "Train Together", where you can ask the teachers for help and feedback.
100% money-back guarantee on your first 30 days.
You can
pause or cancel anytime without any fees.
get a discount using, or contribute to, our Pay-it-Forward fund.
Sample Videos
ant to see for yourself if you like the experience before deciding to get your subscription? We have made the entire Swing 1 Class 1 available for you as a sample lesson here:
All Courses Included in the Online Pass
FAQ about the Online Program
FAQ about Online Pass Subscriptions
Schedule of Online Activities
On our calendar page, you can get an overview of all our online activities. You can filter the calendar to see only online events, choose whether you want a per-month or 3-day view, and set your timezone.
Or, if you'd prefer to add our online activities to your own calendar, use these Google or iCal links.
For detailed descriptions of the activities, see below.
Meet Your Teachers
In these courses, you'll get to know Kris and Ali, two passionate swing dance teachers from Germany.
Together, Kris and Ali have been teaching swing dancing to people of all experience levels – from complete beginners all the way to training teachers in our unique teaching methodologies. They have been teaching all around the world: from most cities in Europe, to Israel, Chile and back again. This program contains their best ideas, things that work everywhere for people from all walks of life.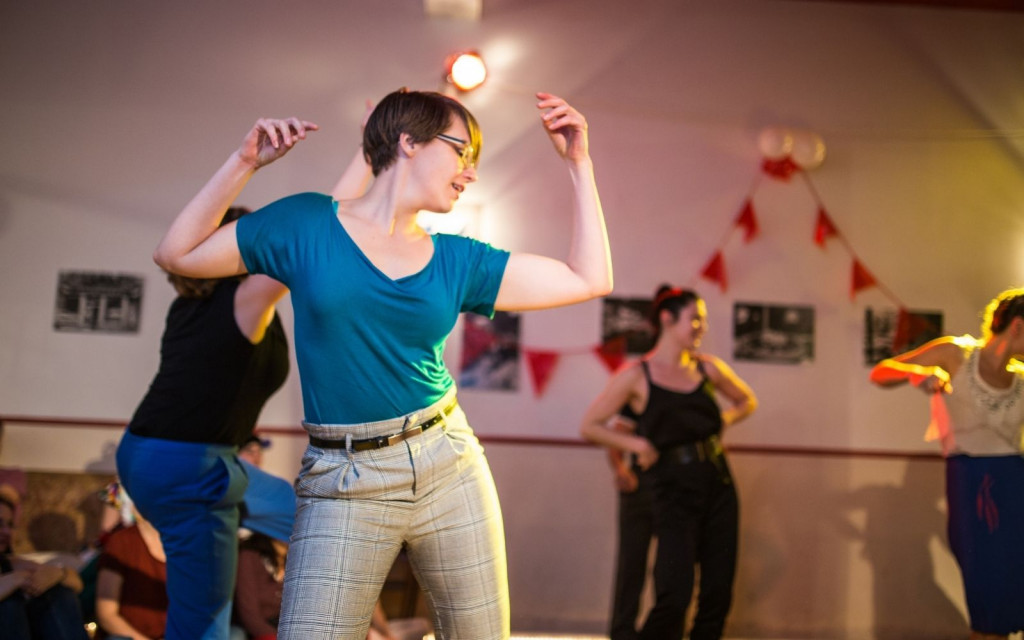 Kris Blindert
Before Kris dedicated herself to being a Lindy Hop and Jazz teacher, she worked in astronomy; researching, teaching, and sharing with the public. She always loved teaching, and her years of experience with such different topics have honed her skills so that she can break down very complex things into easy-to-understand pieces. Her goal is always to give you as easy a learning experience as possible without watering down the dance.
Ali Taghavi
Ali began his career as a chemist in Alzheimer research. After 4 years of being fully immersed in the latest discoveries in Alzheimer prevention and treatment studies, he recognised that swing dancing offers all the benefits of a healthy lifestyle in one single activity. So he decided to dedicate himself to helping busy people live strong, happy and passionate lives through swing dancing.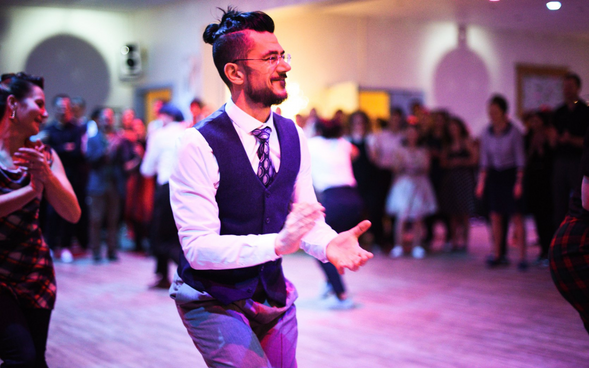 How other dancers describe their experience with our online videos
"We really enjoyed the first Swing 6 video class at home. The format of having one long video for the whole session made it feel like being in a normal class with the additional benefit of always having the perfect perspective to the teachers. We liked it, that we didn't have to press play and pause so we could focus only on the instructions and on dancing."
Golnoosh and Samuel
"I knew it would be good, but it's even better. I loved my first online class with you and I'm looking forward to what is coming in the next videos. I particularly love the way the class is built up and presented. This program will definitely help me to work on my basics, so as soon as we can go out again, I will have even more joy in dancing."
Thomas
"I'm well impressed with the quality of the video and the sound as well as with your teaching! Felt almost as being in an actual course with you looking at me and having intense training, laughs and good music. Would not have thought that online-swing-classes work so well, thank you very much!"
Esther
You want to know more about us?